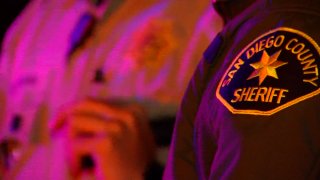 A 28-year-old man surrendered to authorities after a five-hour standoff with San Diego Sheriff's deputies near Valley Center in unincorporated Escondido, the SDSO said.
The incident along Circle R Drive and Red Hawk Road began as a domestic violence call around 8 p.m. on Sunday, deputies said. A woman texted her mother to report the domestic violence and her mother called for first responders, the department said.
The woman and her children were able to leave the home as soon as deputies arrived and she was transported to a local hospital, the sheriff's department said.
Deputies and a Special Enforcement Detail team had the home surrounded and the suspect remained inside his home, refusing to speak over the phone to crisis negotiators. At some point, deputies believed the man had access to weapons inside the home, Lt. Ted Greenawald said.
Around 11:15 p.m., the 28-year-old man, whose name was not immediately available, came out of the home and was taken into custody, he said.
No other information was available.