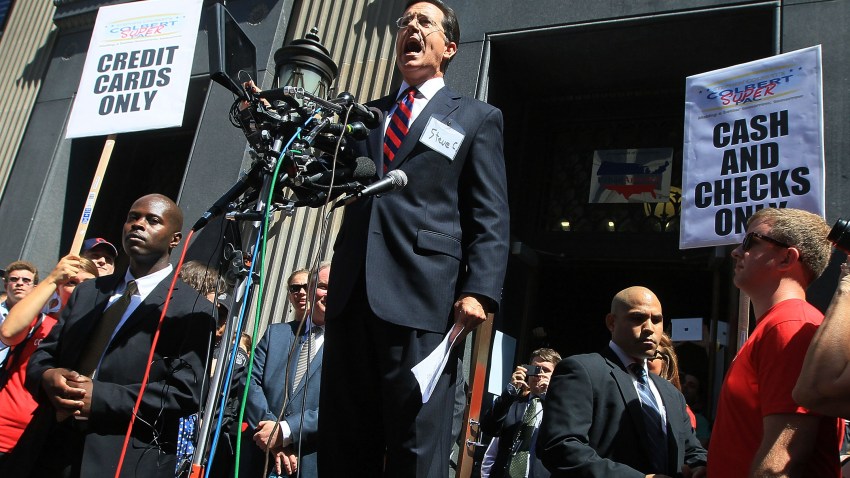 This year's Presidential election will differ from those of the past in at least one major way.
A lot of campaign money will be spent by controversial, so-called "Super PACs."
"Super Political Action Committees" are organizations that bankroll campaigns independently of the candidates they support.
Under a 2010 U.S. Supreme Court decision, Super PACs can accept unlimited donations from corporations, unions and nonprofits, because they're deemed to have the same First Amendment rights as individuals.
The organizations have seen increased recognition not only on the campaign trail, but also on late night political comedy shows.
Since the Supreme Court ruled in a case called "Citizens United v. Federal Election Commission", Super PAC spending has exploded to remarkable levels over that of the more limited, pre-ruling Political Action Committees.
Last year, half of the proceeds came from fewer than two dozen donor entities.
And much of the spending has gone toward negative "attack ads" aimed at opponents of the candidates that the Super PACs support.
"What concerns me," says David Cobb, a leading advocate of getting money out of politics, "is that toxic money -- and how it's being spent is denigrating our politics. It's denigrating our culture."
Never mind that Meg Whitman spent $140 million running for governor in 2010, only to lose to Jerry Brown.
"I think the statistics show that over 90 percent of the time," Cobb said in an interview Tuesday, "the person that raises the most money wins the election. It's even more important than incumbency."
Cobb is national projects director of Democracy Unlimited and spokesman for "Move to Amend", a 113,000-member coalition dedicated to passing a Constitutional amendment to undo the effects of the "Citizens United" case.
Here in San Diego to address a community forum at First Church of the Brethren in City Heights Tuesday evening, Cobb noted that President Obama has given his blessing to a Super PAC to provide independent, non-coordinated spending to benefit his re-election campaign.
"The Democrats and Republicans at the leadership level are both playing this game," he said. "Republicans and Democrats at the rank-and-file level are disgusted by the corporate money in politics, and the corporate takeover."
But supporters of Super PACs dispute the very notion of a corporate takeover.
"The amount of money that's going into those (attack ads) can be sourced from corporations or unions; it doesn't matter," says T.J. Zane, president of the Lincoln Club of San Diego County.
"Unions have just as much influence," Zane insists, "whether they're able to do it collectively through contributions from their members, as when you have five, six, ten wealthy individuals out there doing what they decide to do."
The Lincoln Club is a big backer of San Diego's Comprehensive Pension Reform Initiative, which cost $1.2 million to qualify for the city's June 5th primary election ballot.
Ultimately Zane would like to see all contribution limits lifted, but with a key proviso.
"Just require online disclosure within 24 hours -- instant online disclosure, no limits," Zane says. "It doesn't bar corporate or union contributions. Let the public decide. Put it out there, online within 24 hours."
Click here to read more about NBC San Diego's debates and political coverage of the upcoming 2012 mayoral race.
More than 300 national Super PACs have already raised nearly $100 million for this year's election cycle, and still have $46 million left to spend.
In the 2010 cycle, the Republican Governors Assn. spent $132 million, double what the Democratic Governors Assn. did.