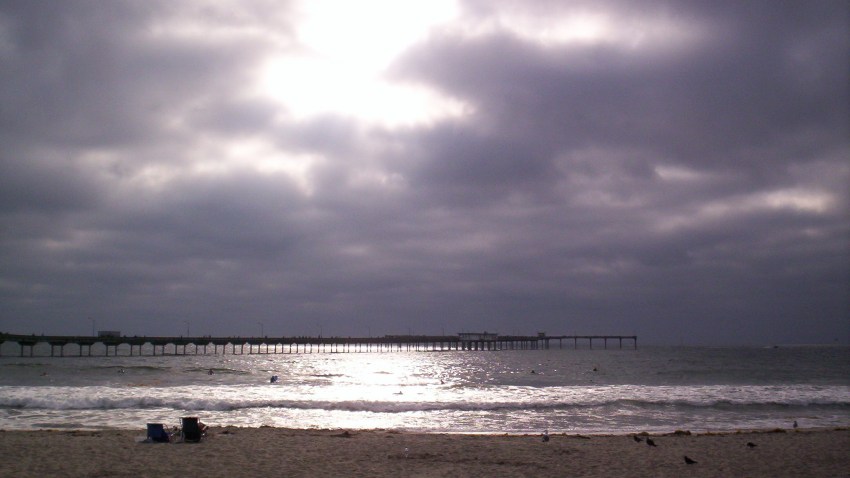 Cool and cloudy have replaced San Diego's normal summer mantra of, "Sunny and 70s;" at least, that's what it's been so far this summer. As we approach the end of the month, July, which is typically our second warmest of the year, may well end up as "one of" if not "the" coolest July on record. Who knows, this may very well end up being the coolest summer ever; it's certainly feeling that way.
A deep trough of low pressure has spent most of the first 5 weeks of the "warm season" parked off the Central California coastline. Typically, high pressure is the summer standard up and down the west coast - it's the highs and their clock-wise motion that makes for sunny days and warm temperatures.
Low pressure flows in the opposite direction and, since its centered a few hundred miles to our northwest, that's kept cool, moist air flowing from off the Pacific right over San Diego and the rest of Southern California. This is actually a normal weather pattern for May and June but very untypical for July.
As a result and with very few exceptions, our temperatures have been running about 10 degrees below normal both at the coast and over the valleys all summer long. Today is a perfect example: normally at Lindbergh Field we would be seeing the sun by around 10 o'clock in the morning and an afternoon high of 77-degrees. Instead, we can expect the clouds to only burn-off partway and we should top-out around 67.
Inland, we see the same story even though we're getting mostly sunny skies by early afternoon. The strong on-shore flow is resulting in highs only in the upper 70s and low 80s instead of high 80s and low 90s.
We are expecting slightly warmer temperatures by Friday but then another trough moves this way bringing cool, cloudy conditions back for the weekend.