Friends and family are mourning a 29-year-old woman who died over the weekend after a suicidal man jumped from the top of a building in downtown San Diego and landed on top of her.
The San Diego Police Department said the man and woman did not know one another. The man, who was not identified, was brought to a hospital, where he died a short time later.
SDPD said the woman had eaten dinner in the downtown area Sunday and was walking home with a friend at around 7:30 p.m. along the 400 block of 10th Avenue near J Street, not far from Petco Park. As she walked, a man jumped from a parking garage, right above her.
Investigators told NBC 7 they're not sure what level of the parking structure the man was on.
The victim had been on a second or third date with her companion; he was not hurt in the incident.
The woman was identified by the San Diego County Medical Examiner's Office as San Diego resident Taylor Kahle.
People who knew her are shocked, still processing their loss. A makeshift memorial has been set up in the Gaslamp Quarter where the tragedy happened.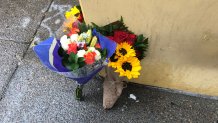 "We loved her, and, I mean, the photo we put up of her with a smile -- that's one thing she always had always, no matter what, [she] always had a smile on her face," co-worker Dean Williams told NBC 7 on Monday.
Kahle, who would have been celebrating her 30th birthday this weekend, had planned on going to Temecula with girlfriends for a wine tasting -- they were to have been chauffuered by her dad.
Kahle had worked at McFarlane Promotions in the Gaslamp Quarter for the past nine years as an event planner. The company is known for its downtown holiday block parties celebrating Mardi Gras, St. Patrick's Day, and Halloween. The owner of the business said Kahle was like a daughter to her.
"It's hard to believe that something so senseless could take an innocent person," Williams said.
People who live and work in the area were beyond shocked by the tragedy.
"Oh my God," said neighborhood resident Stephanie. "I didn't hear that. That's awful."
"How do you call parents up and say, 'Your daughter is not coming home'?" said Charles Peterson, who works in the area.
Kahle's dad is, of course, devastated by his loss. It was just the two of them, living together. He is grateful for the year during the pandemic that Kahle lived with him and for the animals that she had rescued in Tijuana.
Kahle's colleagues said she was a joy to work with -- an inspiration and someone who always made you feel good.
"We pray for her family, and we pray for the family of the gentlemen who jumped, along with the gentleman she was with," Williams said. "It's just a triple tragedy."