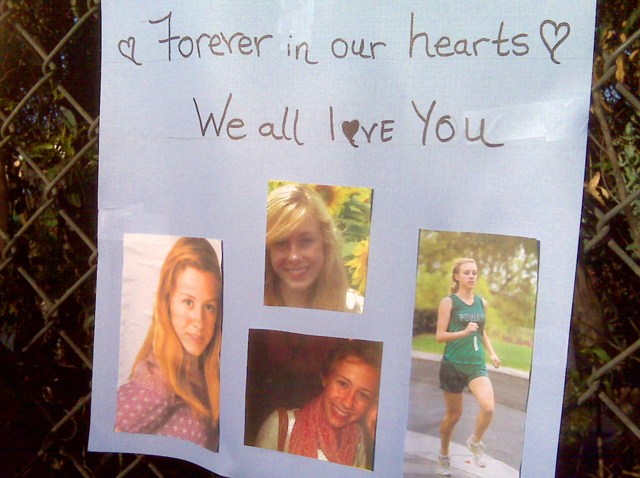 It was a day of mourning at Poway High School Wednesday, as students and teachers returned to the classroom, grief-stricken over Chelsea King.

Counselors were on hand to help students cope with their raw emotions.

"I just want to rewind five days," Chelsea's friend Jenna Belknap said.
---
NBCSanDiego and NBCSanDiego.com will have live coverage of court proceedings of the case at 2:30 p.m. Watch it here LIVE .

---

Students making their way to class wore purple as a sign of hope, faith and friendship -- a tribute to Chelsea King. Candles were lit, and flowers and pictures hung on a chain-link fence surrounding the school, where Chelsea would have graduated this year.

Many of her classmates were in shock.

"It hasn't hit me yet," said Amanda Shoemaker, another friend of Chelsea's. "I can't even believe it. It's, like, horrible."

"I just keep thinking that, Oh, Chelsea, will just come out running from behind the mountain and be like, 'Oh, guys I was back there the whole time,' " Belknap said.

An overwhelming sense of sadness has stunned the school community, and the teenagers are still trying to come to grips with what's happened in a place they felt safe.

"School is going to be pretty horrible, because everyone's just sad," said Poway High student Colleen Muawad. "Everyone around you -- it's just going to be sad."

"You always hear it happening about someone who lives somewhere else, but never in this community, never one of your friends," Belknap said.

Parents and administrators tried their best to comfort the suffering.

"Take each day with your friends as one that you share and say the things you want to say to them because you never know," parent Meredith Austin said.

"Sometimes its just giving a kid a hug," football coach Robby Sevier said. "Sometimes its just listening, sometimes it's just being there."

Others were trying remember what made Chelsea so special.

"Keep this young lady's positive memory in mind," Poway High principal Scott Fisher said. "She was as delightful and positive as people say she was."

School officials said they hoped that students would come to class on Wednesday but understood that some would feel the need to stay home.
Related Stories:
Suspect Had 'Unnatural Interest in Young Girls:' DA (VIDEO)
Community Not Giving Up Hope for Chelsea King (VIDEO)
Suspect Had 'Unnatural Interest in Young Girls:' DA
Suspect Arrested in Case of Missing Teen Chelsea King
Missing Poway Teen's Parents: 'Be Strong Baby'
"Look at Her Picture, Look for Her:" Parents (VIDEO)
Missing Teen May Have Been Abducted: FBI (VIDEO)
Missing Poway Teen's Parents Cling to Hope
Key locations in the Chelsea King case:

View The Chelsea King case in a larger map