San Diego State University (SDSU) students and veteran Broadway and industry professionals are spending the year building a new adaptation of a popular movie at the university, a move that may put SDSU on the map for similar future developments.
Veteran Broadway composer and orchestrator Wayne Barker, who previously helmed the La Jolla Playhouse-born "Peter and the Starcatcher", and Award-Winning Film and Television Actor BD Wong ("Law & Order: Special Victims Unit", "Mr. Robot") first came to SDSU in 2015 to collaborate with SDSU's MFA Musical Theatre Program on a workshop production of their new show, "Mr. Doctor."
Wong and Barker said the experience the first time around worked so well, it was an easy decision to return this year to work on their newest project, an adaptation of the beloved 1995 movie "Mr. Holland's Opus."
The combination of a deadline, the program itself and the students' enthusiasm provides an ideal set up for creating and developing a musical, Wong and Barker said.
"The development process is all about feedback, trial and error, about learning new things about the work and changing things, and when you have students that are really game and they're getting something out of it on their end, it's kind of a mutually beneficial equation," Wong explained.
Robert Meffe, the head of SDSU's MFA Musical Theatre Program, calls the collaboration a "match made in heaven." Eight MFA students and two undergraduate students are working with the artists to bring their vision to life.
"Our students get the chance to work on a brand new piece, something that's never been seen before, develop characters, learn music, and they also get to work with some of the great creative artists of our time," Meffe said. "And then on the other hand, the artists themselves get to hear their own work."
Musicals can take years and years to write before they are ever staged, Meffe said, and developing a show can get expensive over time.
Most writers and composers start from scratch when they develop a new piece or adapt work and work as independent producers, putting together workshops where they have to pay for actors, pay for space and more, Wong said.
"All of that adds up," Wong said. "And so for us to come to a place where some of those mechanisms are already in place, certainly the actors and the rehearsal space, and the rehearsal time is all built into it, that's really something that is taking that kind of pressure off your plate."
The MFA theater program at SDSU offers a unique space for artists, Meffe said: a shielded and safe environment for those trying out brand new material.
"They can try things, they can cut things, they can add things, and no one is judging the process, because writing musical is very difficult," Meffe said.
He called the development, which may typically land at a larger regional theater like The Old Globe or the La Jolla Playouse, a "game-changer" for the university. Having Wong and Barker at SDSU developing the work will put the school on the map for developing musicals, Meffe added.
"There are going to be many eyes on SDSU, on how we're going to be developing this project," Meffe said. "It's not just people in San Diego saying, there's going to be this new show, it's people in Los Angeles that are going to be interested, there are people in New York that are going to be interested, people all over, from producers to audience members, are going to be interested to see how this property is treated as a musical."
For Wong and Barker, there was an added bonus when returning to SDSU: they already had an established relationship with Meffe and the MFA students, and they were familiar with the process and how it would work, especially for them.
The existing relationships allowed for a more personal experience and more personal product.
"So to come to a place where that educational dynamic creates relationships and creates chemistry, we've grown very fond of these actors, very fond," Wong said. "It's, I think, a little bit more personal for us than it would be in a traditionally produced environment."
Leo Yu-Ning Chang, who plays Glen Holland on the adaptation, said both Wong and Barker have been supportive and inspiring for the students during their time together.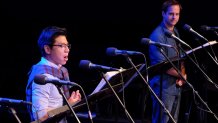 "He just allows us to explore and to bring ourselves into the characters and that really made me feel really comfortable in this process, because the whole room was so positive and supportive as well as very inspiring," Chang said.
In the days before the readings, which took place on March 29 and March 30, Wong and Barker worked with students and, together, they built the first reading of the show. Students worked individually and in groups with the professionals as they learned the script, music and characters, breaking down the piece scene by scene and song by song.
"The way he gives notes is very encouraging as well," Chang said. "He's basically just like a father, telling you, 'Yeah, I like this, that would be cool if you could do this,' but he opens many doors for us to explore and he also takes our suggestions, our opinions."
The movie tells the story of a frustrated composer who takes a high school music teacher job to pay the bills, and finds fulfillment in teaching students. At first, Wong said, the pair did not make the connection that they were adapting a piece about teaching and mentorship at a university.
But the more time they spent developing the work with students, the more they realized how many real-life parallels they could draw from the movie.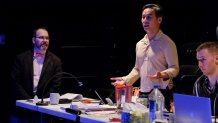 "So there's a kind of a, what would you call it, a meta thing?" Wong said. "It's like a realizing that some of the dynamics that are in the show are dynamics that we experience in real life with students, or that we talk about and we can relate to."
It also reassures the two of them that their decision to adapt the movie was, at least, in some ways, a relevant idea, Barker added.
"To write a show that is wrapped up in education and then immediately bring it to an educational environment, it sort of takes the edge off," Barker said. "Yes. Every day we can come in and say, yes we were right, it's relevant."
Additionally, the development space and the dynamics created a rare environment for the group, said Barker.
"There is room here for something that is rare in professional theater, which is emotional space for the largesse, which is presumably what we're all in it for. . .Here it's not so much of a pressure cooker as in a professional theater with the union clock ticking, and we have to stage this number because the money is going to run out at 11:59. So there's room to have a good time," Barker said.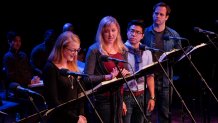 Now that the reading is over, Wong and Barker are looking toward the next phase of their musical's development: the December production. The duo will begin making any rewrites or edits as they talk to university production staff to help them build their vision of the stage musical. Additionally, Barker will begin orchestrating the show.
"You plan and you plan and you plan, but there are always decisions that can only be made at the last minute or what feels like the last minute," Barker said. "But, you're just constantly finding out things where you think, 'oh why didn't we do it that way four months ago?' Well, we didn't know. We didn't know four months ago."
"It's thrilling," Barker added lightheartedly. "And you know what? It's only a show. We get so excited, we get so worried, 'Oh it won't be ready!'. . .It's just a show."