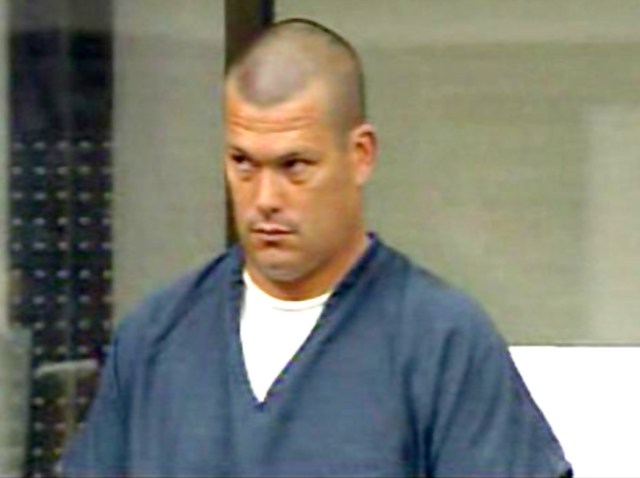 John Albert Gardner III uttered just a single word during a court appearance Wednesday.
Gardner, suspected in the rape and slaying of 17-year-old Chelsea King last week, was in court for an arraignment. His attorney for the hearing, Michael Popkins, entered not guilty pleas for Gardner, saying that his client denied all the allegations. During the date-setting portion of the hearing, Gardner spoke only a single word, "yes," otherwise allowing his attorney to speak for him. The suspect spent the hearing in shackles, mosty looking downward.
The brief hearing inside the San Diego County courthouse downtown began at 2:30 p.m. and was attended by media from all over the country as well as the public, including Chelsea's family and Maurice Dubois, the father of Amber Dubois, an Escondido teen who went missing last year.
---
Criminal Complaint filed in the Chelsea King Case
---
Gardner, a registered sex offender, has been in solitary confinement since he was arrested Sunday in connection to the case of the Poway teenager.
Gardner is due back in court on March 9 for a status hearing. A preliminary hearing is set for March 18. He continues to be held without bail; because no request for bail was made, no details about the allegations were discussed in court on Wednesday.
After the hearing, District Attorney Bonne Dumanis and Deputy District Attorney Krisin Spieler discussed the case and the charges -- including first degree murder and a special allegation of rape or attempted rape, and a count of assault with intent to commit rape in a December attack on another person -- which carry an enhancement to the charges, which would make it a capital case if the district attorney's office elects to pursue the death penalty.
"We know that this has rocked San Diego," Dumanis said. "This has rocked all of us."
King, 17, who spent some time growing up in Illionis before returning to Poway, was the subject of an extensive search effort since she went for a run after school on Thursday and never returned home. Her car was found at the Rancho Bernardo Glassman Community Park with her cell phone, iPod and school clothes found inside.
DNA on a piece of King's clothing found along the southern shore of the lake led to Gardner's arrest. Search crews looking in the area near where that article of clothing was found, discovered a body Tuesday in a shallow grave in a tributary about 10 feet from the edge of the water.
The county medical examiner's office worked to confirm King's body. An investigator was meeting with King's parents at their Poway home, said Lenore Aldridge, a medical investigator. It was not clear if fingerprints, dental records or other methods of identification were being used.
San Diego police said Gardner, 30, also was linked to an assault on a 22-year-old Colorado woman who managed to fend off her attacker on Dec. 27 in Rancho Bernardo Community Park on the northern edge of San Diego, where King's 1994 BMW was found.
San Diego police Capt. Jim Collins declined to describe the evidence connecting Gardner to the December assault but said a swab taken from the victim's elbow did not match Gardner's DNA.
The Search
Dozens of law enforcement officers from multiple agencies worked in teams performing line searches at the lake, going through reeds, snakes and vegetation along a 14-mile stretch of shoreline. The FBI brought in sonar to help search underwater, police helicopters flew low over the grassy edge of the lake and U.S. Navy divers also volunteered.
The search also included thousands of volunteers - some showed up just to pitch in and ended up organizing efforts. Police focused on the core area near the lake but created grid maps for smaller teams of volunteers to walk and look for any evidence of Chelsea.
The King Family
Brent and Kelly King were more than open to media interviews during the five days of searching for their daughter Chelsea if it meant keeping the search going.
At a candlelight vigil Tuesday night -- originally planned to support the family but ended up memorializing the teenager loved by so many -- Brent King tried to hold himself together while addressing a crowd of thousands.
"One of the nicknames I always called my daughter is my angel," Brent King told the crowd. "I want to thank everyone in this community that have touched our hearts. Everyone who's heart was touched by Chelsea… everyone that helped in the search, everyone that is going to help in our healing."
While Chelsea's father was speaking, someone shouted, "We love you." Brent King responded, "We love all of you."
Who Chelsea Is
Wearing blue in honor of Chelsea, Poway High School students wore blue ribbons Monday. Pictures of the missing teenager surrounded the school on Espola Road.
"That's what we love about Chelsea is those bright beautiful blue eyes of hers so that's why everyone's wearing the blue,"said Traci Barker-Ball, peer counseling advisor with Poway HS.
The Kings called their daughter their shining light, "sunshine inside and out."
Recalling a text message he recently sent Chelsea, he said she had dreams and wanted to change the world. "I texted her and said 'I am just so proud of you, for the kind of person you are.' She's what every parent wants. She's that kid. You don't worry about her grades, we worried that she studied too much. 'Please, just relax, go have some fun,' " he said.
"She must be an amazing person because there are a lot of friends and family that are standing here," San Diego Sheriff's Dept. spokesperson Jan Caldwell said on Friday night referencing the friends who came out to help search. "That's a testimony to the kind of girl that she is."
The kind of girl, friends and family say, is a college-bound senior, a peer counselor who played the French horn, a vegetarian and "health nut" who would chastise her parents for eating a donut and a cross-country runner who loved to run for hours at a time.
John Albert Gardner III
Gardner, who was arrested outside the restaurant Hernandez' Hideaway in Escondido, is not cooperating with sheriff's investigators. The 30-year old lives near Lake Elsinore but had been staying with his mother and stepfather on Matinal Road in Rancho Bernardo.
Prosecutors in a prior sexual assault conviction described Gardner as having "an unnatural interest in very young girls."
Gardner was charged with four felony counts in March of 2000 after he beat and sexually assaulted a 13-year old.
According to court records, Gardner's 2000 victim said "he had his hand on my mouth and I couldn't breathe and I got pretty fuzzy after he hit me and I'm not sure if I blacked out."
Gardner served five years in prison and three years probation. He could have faced nearly 11 years.
A colleague says a psychiatrist who recommended a stiffer sentence for Gardner is angry that his advice was ignored.
As a court-appointed doctor, Dr. Matthew Carroll wrote that Gardner was a continued danger to underage girls in the community and recommended the maximum sentence.
Dr. Mark Kalish, who shares an office with Carroll, said Wednesday that his colleague chose unusually strong language to leave no ambiguity or doubt about his assessment. Kalish says Carroll does not want to speak publicly but referred calls on the apparent slaying of Chelsea King to him.
Court records indicate that the district attorney did not seek the maximum sentence only because Gardner had no significant record of prior criminal conduct.
Social Media
Facebook and Twitter played a big role in spreading the word of Chelsea's disappearance, asking for volunteer help and as an avenue for the public to express their concern, sadness and anger.
Chelsea's parents setup an official "Chelsea King Search Center" Facebook page, which thousands of people joined.
The family's close friends and family updated the page as volunteers, San Diego residents and complete strangers from across the nation left messages for the family.

Related Stories:
Vandal Sends Message to Chelsea King Suspect's Parents
Front Row Seat to Worst Show on Earth
A Community Mourns
'Strong Likelihood' Body Found Is Chelsea's
Community Not Giving Up Hope for Chelsea King (VIDEO)
Suspect Had 'Unnatural Interest in Young Girls:' DA
Suspect Arrested in Case of Missing Teen Chelsea King
Missing Poway Teen's Parents: 'Be Strong Baby'
"Look at Her Picture, Look for Her:" Parents (VIDEO)
Missing Teen May Have Been Abducted: FBI (VIDEO)
Missing Poway Teen's Parents Cling to Hope
Key locations in the Chelsea King case:

View The Chelsea King case in a larger map
Copyright AP - Associated Press