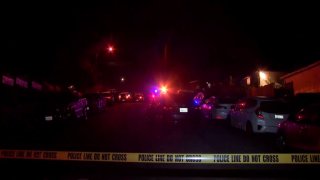 The victim of a street fight stabbing Wednesday in the College East neighborhood, east of San Diego State University, has died, San Diego police confirmed.
The fight broke out on 71st Street near Mowhawk Street just after 7:30 p.m. during a gathering, according to the San Diego Police Department. At least one person, a 22-year-old man, was stabbed during the altercation.
Medics gave CPR to the stab victim and transported him to Sharp Memorial Hospital, SDPD said.
Just before 9 p.m., the man was pronounced dead, according to SDPD Lt. Matt Dobbs. He has been identified, but authorities are not releasing his name until family can be notified.
San Diego police believe the 22-year-old was hosting a gathering at the College East home when a disagreement began. The victim asked some people to leave, but 30 minutes later, some returned and a fight ensued, SDPD said.
The suspects left the area in two vehicles, a silver sedan and a tan- or gold-colored sedan. The suspects themselves could not be described.
SDPD's homicide unit is investigating.