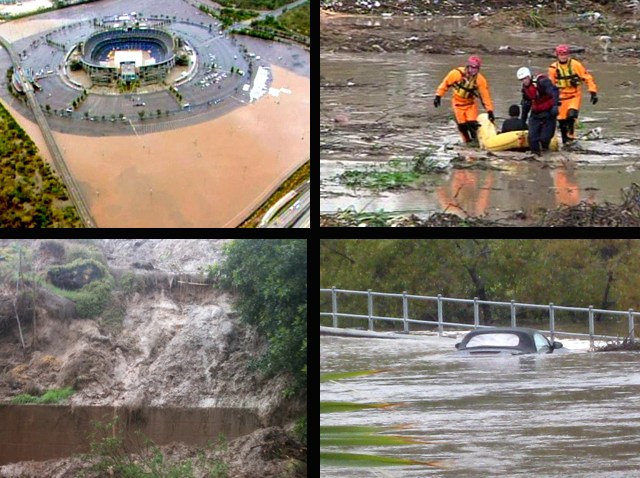 A potent storm system that pounded San Diego caused major problems and damage around the county on Wednesday, including major flooding, mudslides, widespread road closures, accidents and dozens of rescues.
A flash flood watch was in effect with the NWS forecasting heavy rainfall with isolated thunderstorms for most of Southern California.
Residents of the Archstone condo complex on Hotel Circle North were being evacuated Wednesday afternoon because of several feet of standing water all around the complex. Firefighters were considering using buses to transport those uncomfortable with driving out of the area. The residents have been without power since Tuesday night, police said.
Firefighters at Fire Station 45 in Mission Valley had to be airlifted away from the station. The building located in the southwest corner of the Qualcomm parking lot was not flooded but was surrounded by water. No vehicles could go in or out of the station.
A mudslide closed the Federal Boulevard onramp to SR 94 Wednesday afternoon until further notice, according to the California Highway Patrol.
The game between Navy and San Diego State will go on as scheduled Thursday night even though part of the field at Qualcomm Stadium was under water some 24 hours before kickoff, according to the Poinsettia Bowl's executive director.

The stadium's grounds crew is working around the clock to pump out the water from several days of heavy rain, Bruce Binkowski said.

A large portion of the parking lot has flooded as well, which could cause problems for the expected crowd of 51,000.
Tents that were set up in the parking lot in preparation had to be torn down and moved to another area of the lot. Crews will be working well into the night to set things up for the game. The city has not commented on the condition of the field.
Border patrol agents, San Diego police and swift water rescue team members plucked a man from strong currents near Dairy Mart Bridge near Hollister.
In the South Bay, the county's humane society was on standby Wednesday, ready to help evacuate horses if needed.
More than 50 people were trapped by floodwaters Wednesday morning inside a Mission Valley hotel. San Diego lifeguards used a boat to rescue guests one at a time.
If commuters planned to use the Coaster to get to San Diego, they had to find an alternate plan. Coaster and Amtrak train service was canceled between Oceanside and San Diego Wednesday morning due to severe weather, according to an update sent via Twitter from @NCTD.
The Coaster was not running south because of flooded tracks in Sorrento Valley. Buses were not running because no trains are passed the flooded area and in a position to pick up stranded passengers. Several thousands of riders were affected, according to Coaster personnel.
Amtrak could not get trains this far south.
Metrolink going north from Oceanside was also stuck because of a mudslide in San Clemente affecting the tracks.
For updated information the rest of the day Wednesday and Thursday, visit the NCTD website and Twitter feed.
Camp Pendleton restricted base access to essential personnel only Wednesday because of flooding and numerous road closures.
SeaWorld San Diego closed its gates due to the extreme weather Wednesday morning.
Heavy rain covered roadways for the morning commute.
The California Highway Patrol closed Hwy 78 east from I-5 to El Camino -- westbound traffic on the 78 was diverted off at El Camino and allowed enter back onto the west 78 at that location. The closure and diversions were due to flooding about one foot deep on the 78 under El Camino. Westbound lanes of Highway 78 reopened around 7 a.m.
Several rock/mud-slides along hillsides flanked the roadway.
Debris and water blocked N. Torrey Pines Road right in front of the Torrey Pines golf course. One man driving a rental car on the way to the airport got stranded in the water. At 6 a.m., his biggest concern was not the state of the rental car but how he was going to get to Lindbergh to catch his flight to France.
Winds downed several large branches from nearby eucalyptus trees in La Jolla.
SDG&E estimated more than 14,000 customers were out of service at one point Wednesday.
County road crews used snowplows to open drainage areas, according to the California Highway Patrol.
Closures reported by the County's Department of Public Works on Wednesday include:
Via Viejas from Calle de Pescadores to Via Belota, Couser Canyon from 1mm to Double Canyon Road, Sandia Creek Drive at De Luz Road, Little Gopher Canyon, Pala Temecula Road and Wildcat Canyon at 7.5 mile marker just north of the casino.
Rain totals recorded from 8 p.m. Tuesday to 8 a.m. Wednesday:
Oceanside 1.76
Fallbrook 2.29
Escondido 2.09
Poway 1.97
Encinitas 1.58
Fashion Valley 1.89
Lindbergh 1.53
National City 1.28
Chula Vista 1.05
Palomar 3.28
Mt. Laguna 1.39
Borrego Springs 1.09
Free sand and bags are offered at the following locations:
Valley Center, CAL FIRE Station 73: 28205 N. Lake Wohlford Road
Valley Center, CAL FIRE Station 70: 16971 Highway 76
Julian, CAL FIRE Station 50: 1587 Highway 78
Ramona, CAL FIRE Mount Woodson Station: 16310 Highway 67
Fallbrook, North County Fire Protection District, Station 4: 4375 Pala Mesa Drive
Dulzura, CAL FIRE Station 30 at 17304 Highway 94
Across the state, extreme weather and storm conditions prompted Gov. Arnold Schwarzengger to proclaim a state of emergency in six counties.
Schwarzenegger declared the state emergency Tuesday in Kern, Orange, Riverside, San Bernardino, San Luis Obispo and Tulare counties. The emergency declaration frees up state resources to assist local governments in recovery efforts.
California has been pounded with heavy rain for six days and forecasters warned that the most intense in a series of storms was expected Tuesday night into Wednesday.


View Storm Damage December 2010 in a larger map
Copyright AP - Associated Press