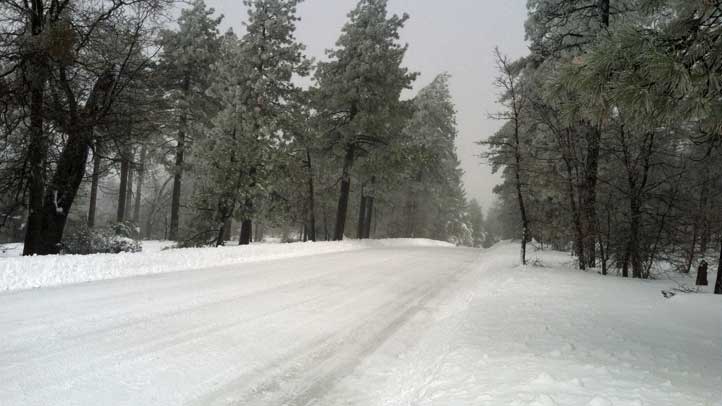 San Diego's much-anticipated weekend storm carried over into Monday and brought close to two inches of rain in many of the county's inland areas.
The foothills saw a tremendous amount of rain according to meteorologist Jodi Kodesh.
Alpine registered 3.63 inches of precipitation after the storm had rolled through.
"Even the deserts saw an impressive amount of rain which is rare for those areas," Kodesh said. Borrego Springs received .54 inches of rain.
Coastal areas saw between .50 and 1.0 inches of rain Kodesh reported
As for the snow, the mountains in the east county received a significant amount with Palomar Mountain reporting 10 inches, Julian reporting a foot of snow and Mount Laguna receiving 14 inches.
More totals:
Oceanside Airport 0.78
San Diego Lindbergh 0.61
National City 1.00
Fallbrook 1.34
Escondido 2.00
La Mesa 1.15
As for the winds, some of the peaks registered over the three-day storm were in Harrison Park where 67 mph winds were recorded at 11 a.m. on Saturday.
On Palomar Mountain, 58 mph winds were registered Saturday morning and Cabrillo National Monument saw 53 mph winds at 7 a.m. on Sunday.
How did the storm treat your home, neighborhood? We want to know! Comment below, send us your thoughts via Twitter @nbcsandiego or add your comment to our Facebook page.