After a weekend of sunshine, a Pacific storm system touched down in San Diego County Monday, bringing rain and the potential for a few thunderstorms by the evening.
There was the potential for light showers along the coast Monday morning, but heavier showers touched down just before 1 p.m., NBC 7's First Alert 7 Doppler radar showed.
"Have the umbrella or the raincoat with you before you leave today. You'll need it later on," NBC 7 Meteorologist Sheena Parveen warned.
There was a break in the showers late Monday afternoon but a second wave of the storm was expected to develop Monday night through Tuesday, which could bring thunderstorm potential through the overnight hours.
Use the First Alert 7 Doppler radar below to track the storm near you.
The storm system will also increase winds in the region. The entire county is under a wind advisory; coastal areas and valleys can expect winds in the 25 mph range through about 5 p.m., while the mountains and deserts could see winds near 55 mph through 6 a.m. Tuesday.
NBC 7's Dagmar Midcap said the afternoon spring sun mixed in with the colder air was responsible for the buoyant atmosphere. "It's a very turbulent system moving through," Midcap said.
NBC 7's Dana Griffin was in Oceanside Monday and said weather conditions had changed significantly at the beaches since the early afternoon when the storm touched down.
Rain and gusty winds, up to 23 mph, had reached Oceanside beach, Griffin said. "Winds were so strong, the sand was blowing across the beach...and the wind made the water currents choppy," Griffin reported.
Although sunny skies were seen in Oceanside Monday afternoon, Griffin said the coastal community was expecting more rain Monday night.
NBC 7's Kelvin Henry was in the South Bay Monday talking to San Diegans about the storm.
"I am so excited about spring rain, every time I see it in the forecasts I'm like this is exactly what California needs right now – we are in a historic drought and every drop of water we get helps prevent us burning down later," San Diegan Lauren Kraft-Anderson told NBC 7.
Kraft-Anderson said she hopes the storm hits heavy. "I hope it's a big storm – I hope the ground gets a drink and we can enjoy our summer with less thoughts of having to conserve and less worries about fires."
Monday's storm may have also impacted an afternoon crash in Escondido. Several lanes of southbound Interstate 15 at Valley Parkway were closed after a car crash involving a semi truck occurred just before 2 p.m, California Highway Patrol said.
No injuries were reported, and CHP said speed and rain could have been contributing factors to the crash.
All lanes were reopened by 3:40 p.m., CHP said.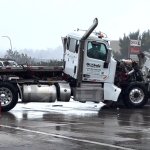 Right now, rainfall estimates for the coast and inland valleys are sitting between 1.66 to 1.69 inches while mountain communities have received nearly 2 inches of rain, the NWS said.
NWS said Monday night a flood advisory was in effect until 2 a.m. Tuesday as moderate to heavy rain hit San Diego County around 8 p.m.
In anticipation of the wet weather, Coronado was providing sandbags for residents while supplies last. They can be picked up at the following locations: First Street and Alameda Boulevard; Fourth Street and Alameda Boulevard; North Beach; Coronado Cays, near the fire station.
Any heavy snowfall was expected to be above 6,000 feet, the NWS said.
On Thursday and Friday, an inside slider may bring a few showers and gusty winds to the region, but any rain amounts were expected to be light, the NWS said.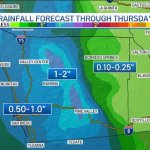 High temperatures along the coast Sunday were predicted to be 64 to 69 degrees with overnight lows of 49 to 54. Inland valley highs were expected to be 72 to 77 with overnight lows of 45 to 52.
Highs in the mountains were expected to be 67 to 75 with overnight lows of 38 to 45, and highs in the deserts will be 90 to 95 with overnight lows of 53 to 62.