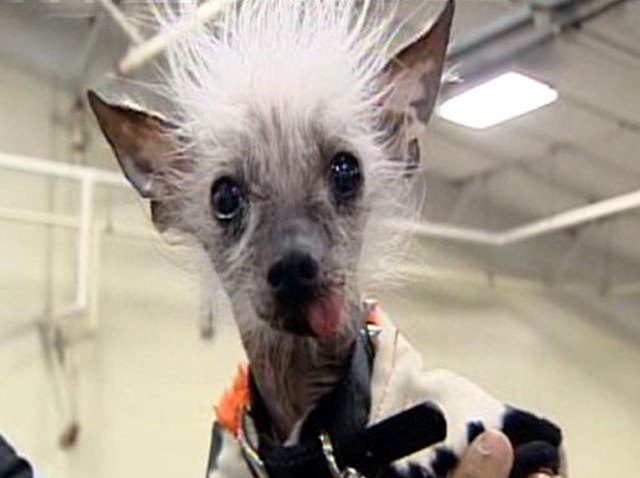 Rascal proved he's still got it at Del Mar's Ugly Dog Contest.
Naturally hairless and born without a lot of his teeth, Rascall has made the most of it.
He's a descendent of Chi Chi, who is listed in the Guinness Book of World Records for winning the most ugly dog contests, according to his owner Dane Andrew of Sunnyvale.
With the looks and the royal lineage to boot, Rascal and his owner high tailed it to Del Mar to compete in the annual Ugly Dog Contest Sunday. Proceeds from the event benefit the Helen Woodward Animal Shelter.
"At first they think he's ugly and then they think he's cute," Andrew said about Rascal's fans. "He grows on them in just seconds."
At the event, Andrew said the pup is an African Sand dog but he's listed as a pure bred Chinese Crested on the dog's Web site.
According to Andrew, Rascal holds a number of titles including the "Oldest Ugly Dog" out of Fort Bragg, TX, the winner of the Ugly Dog contest at the Citrus Harvest Festival in Highland, Ca. and the winner of the PSCPA's "I'm so Ugly I'm Cute" contest.
Rascal's owner has been interviewed by Jay Leno, Barbara Walters, Jane Pauley, Carson Daly and Kathy Griffin, according to his IMDB site.
Rascal competed in the 2009 contest but judges named the winner Chomper (pictured). Obviously, they were charmed by his runny nose and two-tone tongue.