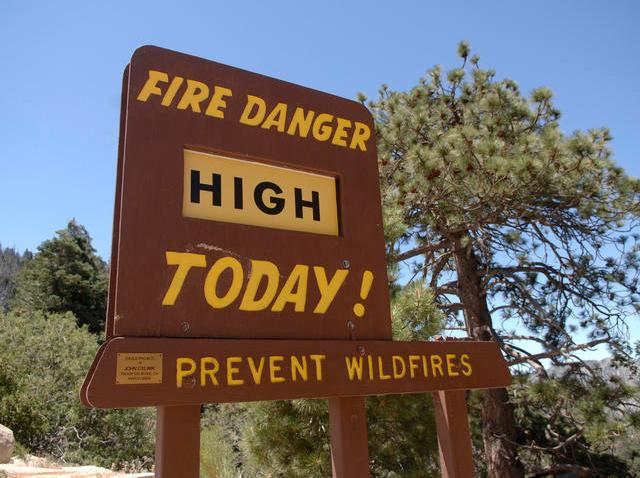 When you step outside in October and you feel warm, strong winds, you can't help but think about the threat of fire danger.
Residents in the East County know that feeling all too well. When a high wind warning went into effect Tuesday for San Diego County, they along with firefighters were on heightened alert.
"We're always scared when the wind comes up we're always wondering when the next fire's going to come through," said Ramona resident Joyce Battaglia.
Battaglia has survived two fires. She lost a home in the Witch Creek fire two years ago.
She, like so many Ramona residents -- knows just how dangerous gusty winds and dry conditions can be.

"This year I have the water truck. I have hoses I mean we're pretty much prepared," she said.
Conditions Tuesday presented the situation firefighters try hard to prevent. Cal Fire increased staffing levels and asked residents to be prepared.
"The fuels are at critical levels meaning that they will burn very readily. People need to be prepared. People need to be on high alert today," said Battalion Chief Nick Schuler with Cal Fire.
Four airtankers are on standby, ready to battle flames with retardant if a fire breaks out, according to Schuler.
"We have a large number of not only air assets but ground assets available to San Diego County and all of Southern California. That provides a surge protection should a fire start," he said.
Even though firefighters urge residents to have an evacuation plan in place one resident who lost so much two years ago said she and her family are prepared to stay put in the face of another fire.
"We'll never evacuate ever again unless they drag us out with guns," said Beth Edwards of Ramona. "We have masks. We have a fire safe zone where we can go. We have our water."
Fire officials also urge residents to sign up for the reverse 911 system so they can receive the emergency message on their cell phone in the event of fire evacuations.