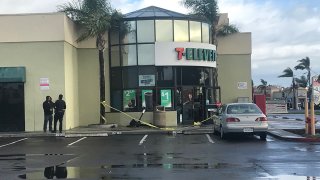 Police have identified the victim who was fatally stabbed in the Midway District on Thanksgiving.
The victim, Robert Frank Erbe, 55, was stabbed after an altercation with another man outside a 7-Eleven store at around 8 a.m. on Nov. 28, the San Diego Police Department said.
The suspect used an unknown weapon to cause "significant injuries" to the victim's neck, SDPD said. Erbe was transported to a nearby hospital where he later died.
SDPD formed a perimeter around businesses in the Midway District on the morning of the incident as officers searched for the suspect. At one point, SDPD believed he may have been on a rooftop in the area but, ultimately, they were unable to find him.
The suspect remained at large, and police held a press conference that day to give updates on the deadly case.
Police said the man was last seen walking away from the store in the Midway District. Police described him as being between 20 and 40 years old, wearing a dark hooded sweatshirt, blue camouflage pants, a backpack, and a blue hospital mask.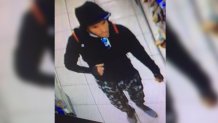 Anyone with information is asked to call SDPD's Homicide Unit at (619) 531-2293 or Crime Stoppers at (888) 580-8477.