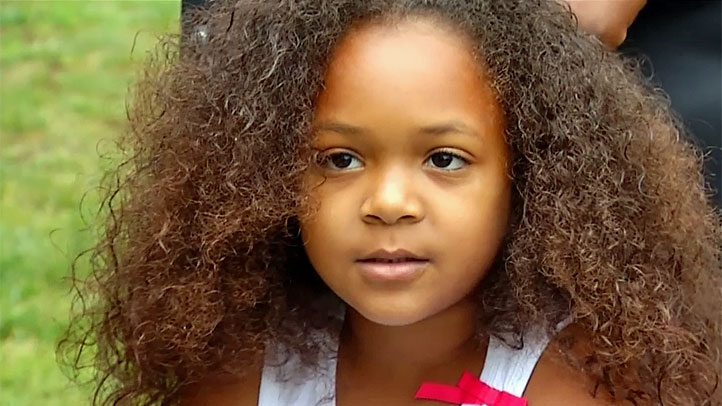 A Spring Valley girl survived a brush with an annoyed rattlesnake Monday. She's the most recent victim of what can be a dangerous time of year in San Diego.
Saniyah Colon, 5, had a swollen foot with a red mark and was a little shy when talking Wednesday about the snake she ran into while walking near her home.
"I was going to the swimming pool with my brother and I thought this rattlesnake was a stick so I just stepped down, so it just bite me," Saniyah said.
Her mother, Samatra Ethridge, said the snake was under a wooden plank and when Saniyah stepped down, the snake bit her.
"It's really hard to keep your child calm and yourself calm," she said.
Ethridge said there was some confusion over what kind of snake was involved.
Her sons searched online for an image of a similar snake and then showed the image to the firefighters.
A neighbor offered up an image from her own phone to help firefighters pinpoint the type of snake.
Emergency crews were able to get Saniyah to Grossmont Hospital early enough to get her the antivenin.
She was later transferred to Children's Hospital where she could continue her care.
Now, even though Saniyah can't quite wear her shoe on her foot, there isn't much pain. "It doesn't hurt, it just feels normal," she explained.
She's fortunate. Hospital staffers shared another story in which a young girl needed extensive treatment to overcome her injury from a rattlesnake.
WARNING GRAPHIC PHOTO of a more seriously injured snake bite victim and the surgical procedure necessary to treat her
So what should parents do if their child is bitten?
Katherine Konzen, Director of Rady Children's Urgent Care Centers, said it's important to keep calm and call 911.
The doctor said Ethridge did those key things in this situation and that helped her daughter get the help she needed.
"Usually we want that antivenin within 2 hours," Konzen said. "So time is of the essence."
Watch: What to Do if You're Bitten by a Rattlesnake
She also offered these key reminders on what to do if your child or anyone else should have a similar run-in with a rattlesnake.
Keep the snake bite victim calm
Remove anything constricting
Call 911
If possible, splint the area to keep area still
Keep affected area below heart level
Kalani Hudson with the County of San Diego Department of Animal Services said there are a few differences between a rattlesnake and a harmless gopher snake.
A rattlesnake has a triangular-shaped head and a smaller neck.
"While you may be able to clearly be able a rattlesnake, you may not be able to clearly identify that it's not a rattlesnake," Hudson said adding that garter snakes can sometimes coil and rattle their tails as protection because they are not venomous.
She advised parents instruct children not to touch wild snakes and to go get an adult when they spot a snake instead of going near it.