A woman said she panicked and quickly became frightened during an odd encounter with a man accused of attempting to kidnap at least nine young women in San Diego's North County – including her.
On Monday night, Escondido resident Totis Rodriguez, 27, was walking on Broadway near a Del Taco when Spicer Van Allen Conant, 46, approached her. He was parked in the lot near the eatery and Rodriguez said he blocked her in with his red convertible.
He asked her for directions, then asked where she was headed.
"I walked away from him and he said, 'Do you need a ride?' I said, 'No, thank you,'" Rodriguez recalled. "He said, 'Hop in, I'll take you.'"
The stranger's persistence didn't sit well with Rodriguez.
"[I said], 'No, no, no, no, thank you,' and I panicked," she added. "I was frightened, I was. I was frightened."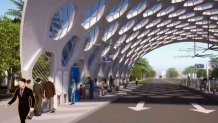 Rodriguez said Conant "seemed like a normal guy" at first, but things turned.
"At the beginning, I thought it was okay. He was very vulnerable, nice – needs help. But, then his tone of voice changed and he wouldn't let me walk through where I needed to walk through," she said.
Thinking fast, Rodriguez grabbed her phone from her back pocket and snapped two photos of Conant. She memorized his license plate.
Rodriguez said a friend had warned her about this man in the area earlier on. That same friend encouraged her to call police to report her strange encounter with him.
She did just that.
One day later, Conant was arrested in Escondido.
After identifying him as a suspect in the attempted kidnapping of Rodriguez and other young women in the area, investigators placed Conant under surveillance.
On Tuesday, officers followed him as he drove to Escondido. Conant approached a group of five young women, most of them minors. Again, he asked for directions.
One woman, an 18-year-old, got into his car. At that point, fearing for the young woman's safety, police officers pulled Conant over on 13th Avenue and Escondido Boulevard and arrested him on suspicion of attempted kidnapping.
While searching Conant's red car, police found an illegal assault-style rifle and 1,000 rounds of ammunition in the trunk.
Rodriguez told NBC 7 on Wednesday that she's still shaken from her encounter with Conant.
"I have not been sleeping lately, these past few days," she said. "I haven't been focusing on school."
Rodriguez said that she was carrying a backpack and had her hair around her face during her Monday encounter with the suspect, so he may have thought she was younger that she is.
She's grateful she got away from him, as she imagines his intentions were not good.
"I feel blessed that nothing happened to these other women," she added.
The Escondido Police Department (EPD) announced Conant's arrest Tuesday. Investigators said he's linked to at least nine cases spanning the course of about 10 months – starting last spring. In each case, Conant asked young girls for directions and even offered them money to get into his car.
Another victim, Escondido mom Kirstin Rangel, told NBC 7 Conant approached her on Mission Avenue last spring to ask her for directions. She also described feeling "scared" during her encounter with him.
The EPD said Conant also allegedly approached a 15-year-old girl on Fig Street and Washington Avenue on May 9, 2016. She got away. Later that same day, he tried to offer a 16-year-old girl $10 for directions to the freeway. That girl got into his car but after driving with Conant for a few blocks, she got nervous and began texting someone. Conant dropped her off and drove away.
On March 15, Conant allegedly approached an 11-year-old girl as she walked to Mission Middle School, again asking for directions. She ignored him and walked away.
The EPD said investigators have reached out to other law enforcement agencies across San Diego County to determine if Conant targeted any other young victims in this manner. Police were in the process Wednesday of executing a search warrant on Conant's home.
The investigation is ongoing.
Conant worked at Scripps Institution of Oceanography at UC San Diego from 1993 to 1996, a spokesperson for Scripps Institution confirmed Wednesday, although no further details of his employment were released.
The suspect has been booked into the Vista Detention Facility on 10 felony counts of kidnapping and nine misdemeanor counts, including annoying children. He's scheduled to appear in court Thursday.