Southern California's stay-at-home order will remain in place for the foreseeable future as the region grapples with a gripped ICU capacity, Dr. Mark Ghaly, Secretary of the California Health and Human Service, said on Tuesday.
The order, which covers an 11-county Southern California area, took effect at 11:59 p.m. Dec. 6 and was set to expire Monday. But with the region's intensive-care unit capacity at hospitals still effectively listed at 0%, that order was instead extended.
Coronavirus in San Diego County
How the pandemic is impacting our region.
A formal announcement on the matter had been expected Monday, but Gov. Gavin Newsom said the state was still compiling hospital and case data, and completing hospital-demand projections for the next four weeks. He alluded that the region's order would likely remain due to its low ICU capacity.
"It is clear and understandable that it's likely those stay-at-home orders will be extended," Gov. Gavin Newsom said Monday.
On Tuesday, Ghaly confirmed both Southern California and San Joaquin Valley's order would remain in place. He explained that the state conceives its framework by looking at projections of a region's ICU capacity four weeks out.
The state determined Southern California and San Joaquin Valley's ICU demand would still exceed regional hospitals' capacity, even in four weeks. Both regions has an ICU capacity of 0%, Ghaly said Tuesday.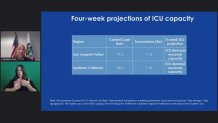 The order was triggered in each area when the region's ICU bed availability dropped below 15%. In some counties, the official ICU bed availability is 0%. That percentage does not mean that there aren't any ICU beds available, since the state adjusts the number based on the ratio of COVID-19 patients being housed in the units.
Earlier this week, Newsom noted that based upon large number of people who appeared to have ignored warnings against travel over the Christmas holiday -- and those who will likely do so over the upcoming New Year's holiday, the state is bracing for a "surge on top of a surge, arguably on top of, again, another surge."
Newsom added that COVID-19 hospital admissions have begun to plateau across much of the state -- with the exception of Southern California, with Los Angeles, Riverside and San Bernardino counties continuing to be the hardest hit.
Photos: 2020 in San Diego
Los Angeles County has rapidly become the epicenter of the pandemic in the state, with the state reporting more than 7,100 COVID-19 patients in L.A. County hospitals, including more than 1,400 in intensive-care unit beds. Newsom said 96% of Los Angeles County hospitals diverted ambulances to other facilities at some point over the weekend due to overcrowding in emergency rooms -- up from a normal average of 33% of hospitals going on diversion.
According to the governor, Los Angeles County hospitals on average spent 16 hours on diversion over the weekend, unable to find space for emergency patients.
The Southern California region covers San Diego, Los Angeles, Orange, Riverside, Imperial, Inyo, Mono, San Bernardino, San Luis Obispo, Santa Barbara and Ventura counties. Most broadly, the order bars gatherings of people from different households.
Under the order, the following businesses/recreational facilities were forced to close:
indoor recreational facilities;
hair salons and barbershops;
personal care services;
museums, zoos, and aquariums;
movie theaters;
wineries;
bars, breweries and distilleries;
family entertainment centers;
cardrooms and satellite wagering;
limited services;
live audience sports; and
amusement parks.
Schools with waivers can remain open, along with "critical infrastructure" and retail stores, which will be limited to 20% of capacity. Restaurants are restricted to takeout and delivery service only. Hotels are allowed to open "for critical infrastructure support only," while churches would be restricted to outdoor-only services. Entertainment production -- including professional sports -- would be allowed to continue without live audiences.
With intensive care capacity in a tight grip, Kim McCoy Wade, the Director of the California Department of Aging, explained that hospitals in the state may have to make crisis care decisions.
In preparation for such a daunting possibility, hospitals have plans that are "rooted in equity, fairness and transparency, if needed and as a last resort." If a hospital is in crisis care, doctors will make medical decisions based on
Medical decisions cannot be based on race, age, sexual orientation, immigration, status, insurance status, disability and other factors.
"Medical decisions primarily are grounded in the likelihood of surviving in the near term," McCoy Wade said. "That is the appropriate basis of these decisions; these other factors are not.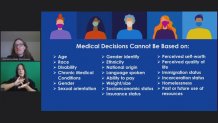 Copyright CNS - City News Service