One man is dead after a crash on Interstate 5 near downtown Monday afternoon, according to the California Highway Patrol.
A 21-year-old man from Calexico was driving a white Nissan Versa when he crashed just north of Imperial Avenue on southbound I-5 at around 1 p.m. near State Route 94.
CHP said the driver was allegedly going 80 to 90 miles per hour when he struck the center divide on the highway. Officers said it is not clear what made him crash at this time.
The Versa struck a disabled Prudential Overall Supply truck on the side of the roadway. The company is known for supplying and laundering automotive uniforms.
A CHP officer said the truck appeared loaded and wasn't moving at the time of impact, leaving the Versa "obliterated."
"We want drivers to maintain a high visual horizon, and that means to keep your eyes up and look as far down the road as you can to be able to anticipate things either in the road or on the left or right shoulders," CHP Officer Mark Hale said.
The truck suffered apparent exterior damage toward its rear end.
A SigAlert was issued at 1:26 p.m. in the area, closing all southbound lanes on the highway, officials said. Caltrans said all lanes were open in the area at around 5:20 p.m.
NBC 7's SkyRanger 7 flew overhead of the crash. Hundreds of cars, stretching approximately six miles back to Sea World Drive, could be seen stuck behind the wreckage.
CHP said it will be shut down for an "unknown duration of time."
Investigators do not believe drugs or alcohol played a role in the crash at this time.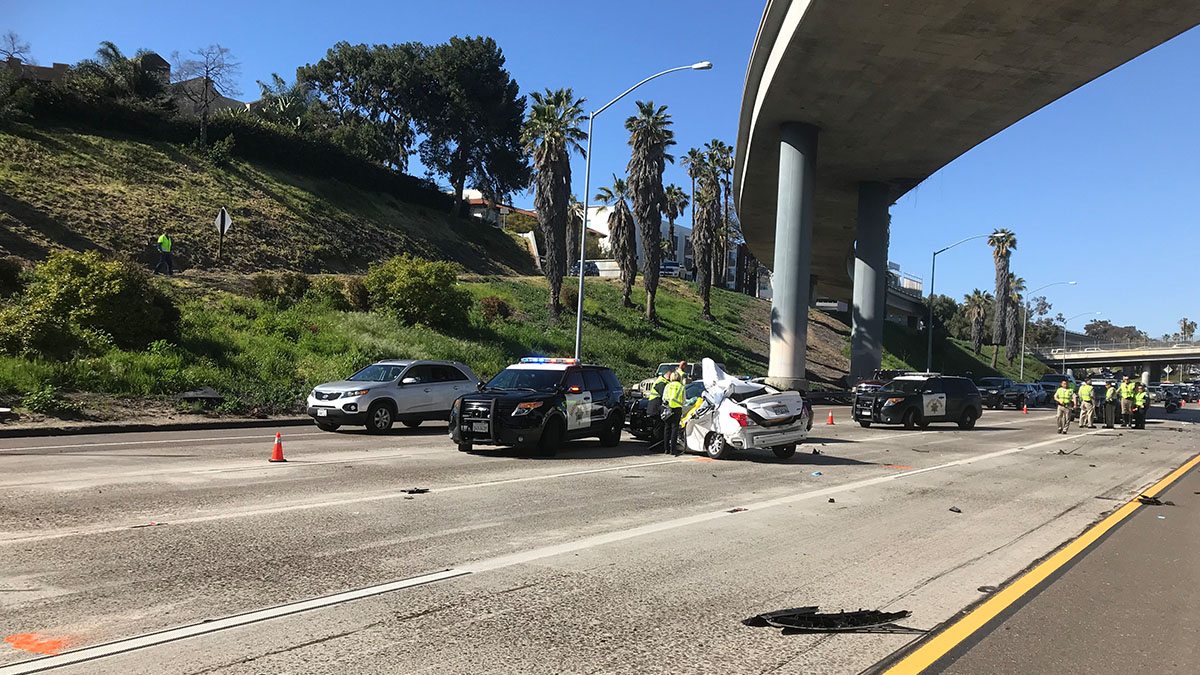 No other information was available.
Please refresh this page for updates on this story. Details may change as more information becomes available.