Fresh coatings of snow blanketed several parts of San Diego's East County overnight, bringing with it chilly temperatures, school closures and travel requirements for visitors.
Snow and freezing temperatures will keep students in three mountain-area school districts at home Wednesday, according to the San Diego County Office of Education.
Snow days have been issued for the Spencer Valley School District, and Julian's elementary and high school districts. Julian students will also report to school late on Thursday, as will students of the Warner Unified School District.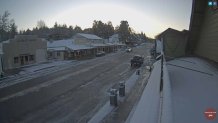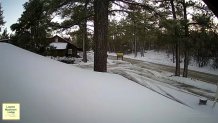 The County Office of Education said it will provide updates on its Twitter feed.
Julian students also got a Wednesday off last December because of winter snow, the first of the season.
"We have maybe a little bit of snow left in the mountains this morning," NBC 7 Meteorologist Sheena Parveen said. "Otherwise, that will be clearing out and we'll be dry today. Temperatures will also be cool."
Anyone who wants to brave the trek to the mountains to catch a glimpse of that snow will need chains on their tires to travel, the county's Department of Public Works said on social media.
Chains will be needed in the following areas:
Montezuma Valley Road -- from the 4-mile marker to 8-mile marker
Chihuahua Valley Road – from the 2-mile marker to the 7-mile marker
Sunrise Highway – between Old Highway 80 to State Route 79
Palomar Mountain