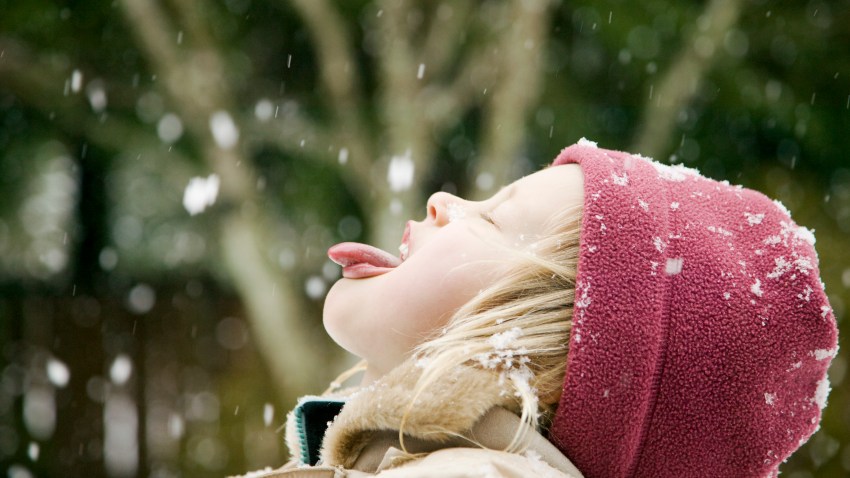 San Diegans awoke to thunderstorms, rain, wind, and even snow and hail on Saturday morning.
"This is beautiful," Susan said looking at the snow, laughing. "I left my snow chains at home, my sleds, everything."
The white stuff started falling on Palomar Mountain and Mt. Laguna in the early morning.
"It's the first snow of the year, everybody's happy," Tom McWay from Laguna Mountain Lodge said. "Usually we get a slight dusting around Thanksgiving, but never this much."
By late morning, the snow was even spotted at about 4,000 feet in Pine Valley, which is very rare for this time of year.
"It'll be a zoo tomorrow," McWay said. "Just bring chains and be careful. Bring your trash home with you."
CHP officials described the roads up to Palomar Mountain and Mt. Laguna as "treacherous" to drive on Saturday.
"Don't go up there unless you have to," CHP spokesperson Brian Pennings said.
As usual, San Diego drivers showed off their sliding skills on the roads and freeways all over the County. On a normal, "good weather" day, there are normally 50 -- 75 crashes, according to CHP officials. On Saturday, there were at least 73 before 10 a.m.
Rough seas battered boaters on Mission Bay Saturday and prompted lifeguards to close the channel to all boating traffic. Two people had to be rescued and taken to the hospital after being washed off their boat by breaking waves.
SEE WHERE IT'S RAINING ON THIS INTERACTIVE RADAR MAP
A woman from Mira Mesa said that it was hailing in her neighborhood at about 8.30 a.m. She wasn't the only one.
"I'm listening to the rain and hail lashing onto the window panes of our house in San Marcos," Julia Phillips said. "It's a cup of tea for me and a good book."
The storm turned out to be a lot more generous than original projections. Sunday's forecast called for mostly sunny skies, an offshore flow and highs in the low to mid 60s.
Email your weather pictures to isee@nbcsandiego.com, send us your Twitpic @nbcsandiego or post your picture to "So San Diego" by clicking on this link.