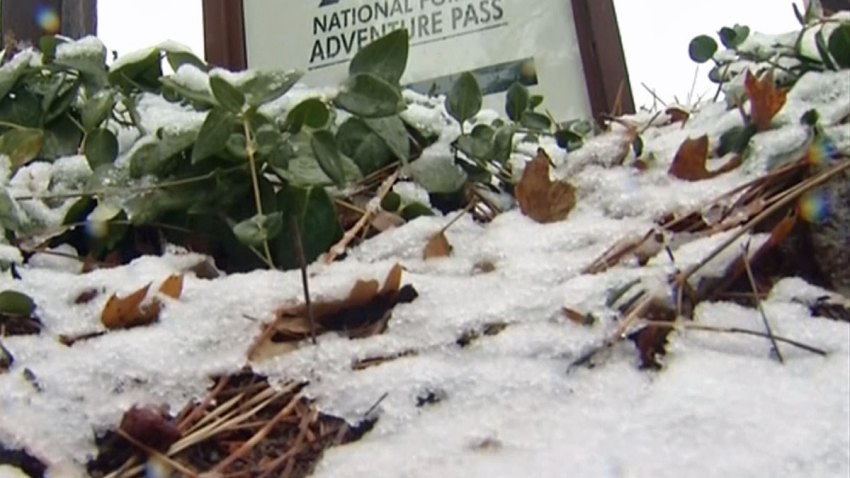 Residents in San Diego's mountains were bracing for what could be a busy weekend of snow and visitors.
While rain fell on most of the county Friday, Mount Laguna got a nice dusting of snow.
One of the owners of the Laguna Mountain Lodge said it started snowing around 6:30 a.m. and within an hour the plows cleared the roads. Soon after the rain washed away what little snow stuck to the ground.
However, the National Weather Service has issued a winter weather advisory which could bring 3-8 inches by the end of the weekend.
The advisory is in effect through Saturday morning at 10 a.m.
A business and a few homes were without phone service due to weather.
At the Pine House Cafe & Tavern on Sunrise Highway, the lack of phone service was interrupting clients' credit card approvals and hurting business according to the staff.
There was a small dusting of snow here in mid-October but it's colder now and this could potentially be the first substantial snow that sticks.
Phones at The Lodge have already started ringing.
"If we get too much snow it's actually not as busy, because people have too much trouble getting here," said Tom McWay, Laguna Mountain Lodge Co-Owner. "If we get a good 5, 6, 8 inches, it's just perfect people can drive everywhere get up here, have fun, the kids get to see the snow."
The forecast for Riverside County includes a winter storm warning for areas above 5000 feet through 10 a.m. Saturday.
More NBC 7 Stories: