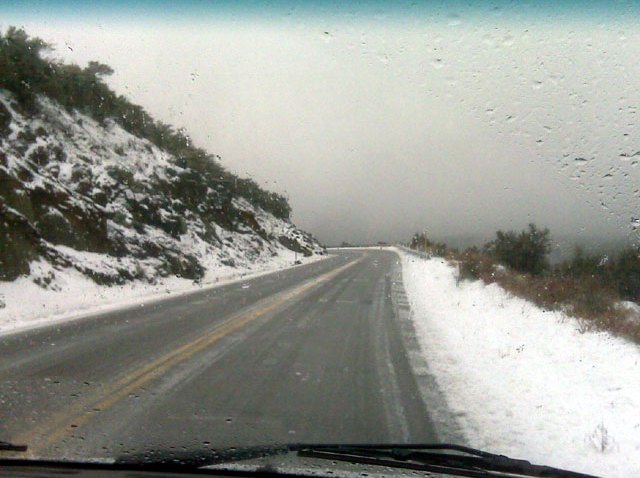 Getting to the snow could be a problem. All access to Big Bear Valley was closed to anyone other than residents Monday. Thousands battled for hundreds of parking spaces on Mt. Laguna Saturday. In the North County, the California Highway Patrol stopped people heading up to Palomar Mountain Sunday afternoon.
CHECK OUT OUR COMPLETE STORM COVERAGE
Due to limited access to Big Bear Valley, Bear Mountain resort was closed Monday. Snow Summit will be open with all runs and lifts available, according to the resorts' web site.
San Bernardino County officials closed access to all of Big Bear Valley Monday due to snowy and tough road conditions, despite a glut of skiers and snowboarders that has flooded the area.
County spokesman David Wert says only residents and those providing supplies and emergency services will be allowed in. The restrictions affect Highway 38 from Redlands and Yucaipa and Highway 18 from Lucerne Valley.
In San Diego, there was a discrepancy over whether drivers needed chains. Monday, the CHP was requiring chains on Highway 79 due to icy conditions.
"The sign at the bottom of the hill is still flashing that you need chains but folks driving near Mt. Laguna Lodge aren't using them," Mt. Laguna Lodge owner and operator John McWay said.
The sign may be discouraging potential visitors to the snow. "It's busier than a normal Monday but not like a holiday," said McWay.
On Sunday, the CHP stopped drivers heading up to Palomar Mountain to see the snow.
Officers closed the South Grade Road Highway 76, east of Valley Center Road from about 3:15 to 5:35 p.m., citing excessive traffic, CHP Sgt. Ken Perez told the North County Times. The CHP also shut down East Grade Road at Highway 76 near Lake Henshaw, Perez told the paper.
Send your snow images to isee@nbcsandiego.com.
Copyright AP - Associated Press