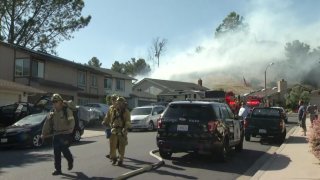 At least three brush fires started Sunday across San Diego County in Bay Ho, Ramona and San Ysidro.
A brush fire started around 4 p.m. in a canyon in the Bay Ho area, near the 4600 block of Leathers Street. The area is surrounded by housing as well as businesses to the west.
The fire was initially about 1 to 2 acres and located in heavy brush behind some homes, SDFD Deputy Chief Steven Lozano said.
"Because of an aggressive initial attack by our first-in units, we were able to keep it down to 4 acres," he said. "We had reports of about 20-foot flame lengths from the residents."
The fire has been knocked down and crews were making a containment line around the fire, Lozano said at 5:15 p.m.
The San Diego Fire-Rescue Department said structures were threatened by the fire, but no homes were damaged. Residents in nearby homes were evacuated out of caution, Lozano said.
The origin of the Bay Ho fire has not yet been determined, he said.
Earlier in the day, the SDFD responded to reports of a brush fire near 727 E. San Ysidro Blvd. around 1:40 p.m. A small amount of smoke could be seen coming from the area.
Cal Fire was at the scene of a half-acre brush fire near the 22000 block of Tombill Road in Ramona around 2:15 p.m.
Crews stopped the forward rate of spread around 2:45 p.m. and Cal Fire said crews were mopping up the scene.