Got pictures or videos of lightning strikes? Share them with NBC 7 by emailing them to isee@nbcsandiego.com.
An awe-inspiring "cotton candy" sunset gave way to cracking lightning strikes in parts of North San Diego County on Tuesday.
By 9:30 p.m., the National Weather Service in San Diego reported lightning strikes in Poway, and was tracking the thunderstorm toward Escondido. A dusting of rain fell in the North County, too, including .17 inches in Poway, according to the NWS.
The thunderstorm was Mother Nature's second act for the summer solstice, or the first day of summer and the longest day of the year.
Tuesday afternoon, NBC 7 Meteorologist Dagmar Midcap forecasted monsoonal moisture moving north into the county was going to pepper the sky with "cotton candy clouds" that would set the stage for a sunset featuring "a beautiful array of golden, pink and tangerine hues."
Midcap was right.
Viewer Melani Da Pron shared this photo of the sunset from Valley Center.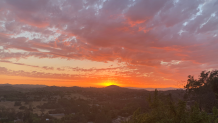 And Adam Atwood sent us this photo of a lightning strike.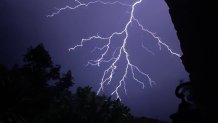 The wet weather is expected to continue Wednesday, according to Meteorologist Ashley Matthews.
"It's going to continue for tomorrow night, as well and into potentially Thursday for the mountains and deserts," Matthews said.
The rest of the week will continue with sunny skies and warm temperatures.