A proposed tram linking the San Diego International Airport to downtown may appear like an amusement park ride but one local official said the idea isn't so farfetched.
Visitors to San Diego Zoo can ride the tram above the park and a similar system was proposed in 2015.
When it was initially proposed, the Skyway would be constructed in the 6th Avenue corridor from the Gaslamp Quarter in downtown San Diego to Balboa Park.
Now, it's suggested the aerial skyway system with its 12-person capsules hovering 90 feet in the air could solve airport traffic congestion by connecting travelers with the San Diego Convention Center.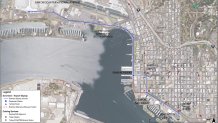 "It's something I think would be ideal for San Diego," District 4 County Supervisor Ron Roberts said.
A feasibility study Roberts commissioned was completed in September.
The capital cost for the project estimated between $230 and $300 million.
"I feel like we would have a very good opportunity for getting a major part of the funding from the federal government," Roberts said.
This study only addressed if it was feasible that a skyway to enhance transportation between the airport and parts of downtown but did not determine the skyway system was the best option.
In a statement, airport officials said they are open to all ideas that would improve access to the airport.
Once all regional partners agree on an approach, the Airport Authority would begin to work to make it happen.
[G] Illustrations of San Diego Skyway System