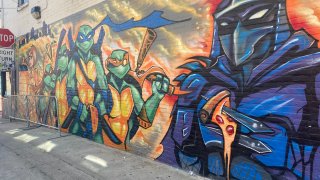 The unveiling of a massive new mural in Hillcrest is set to kick off the return of the monthly Walk in ART on Thursday.
The mural is more than 170 feet long and will be the starting point for the Walk in ART, which begins at 4 p.m. at the corner of 6th and University Avenue. Organizers say the artwork will celebrates the diversity of Hillcrest and the importance of the intersection at which it's located.
"After a brief hiatus during the winter, Walk in ART returns with a new format and energy," Benjamin Nicholls, the executive director of the Hillcrest Business Association, said in a news release.
Muralist Jason Gould, representatives from the Hillcrest Business Association, local politicians and representatives from AT&T, which funded the mural, will all be on hand.
Walk in ART, which takes place on the first Thursday of each month, is an immersive event with street art, fashion, crafts, live music and more. The event runs till 10 p.m.
"ART" is an acronym for allyship, resilience and truth, according to organizers, who said their hope is to develope a welcoming environment for all, celebrating unity, inclusion and diverse voices throughout the community of San Diego.
Craft cocktails will be served and artists create live art during the event. Attendees are encouraged to ask about the artistic process and stay for the final result.
Adjoining the event is The Studio Door arts space, which will be opening its eighth annual Crow Show, showcasing artwork inspired by crows -- the artist's muse.
The Walk in ART will also feature art vendors, opportunities to grab a bite and surprise performances. Guest can also take advantage of selfie-booths and psychic readings.