A woman is in custody, accused of stealing a California Highway patrol vehicle and leading a pursuit that ended in a gun battle with law enforcement officers in San Diego.
Shots were first fired at 2:30 p.m. Thursday in Mission Bay along Interstate 5 just north of downtown as a CHP officer was conducting an investigation into a hit-and-run incident, officials confirmed to NBC 7.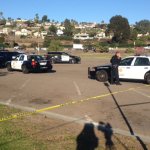 The handcuffed suspect —identified by the SDPD as 27-year-old Casaundra Lane —moved from the backseat and reached for a long rifle stored in the patrol SUV, according to a San Diego Police Department Capt. Al Guaderrama. As she drove toward the officer to run him down, the CHP officer opened fire, fearing for his life, police said.
Lane was not hurt and drove away, heading southbound on I-5 from Clairemont Drive then onto Interstate 8 to northbound State Route 163, police said.
Thirty minutes later, police said they had stopped the vehicle at Friars Road and Qualcomm Way in the Mission Valley area of San Diego. The stolen CHP patrol car rammed into at least three vehicles driven by innocent drivers, Guaderrama said.
Officers attempted to arrest Lane after she came to a stop on Qualcomm Way under the Friars Road overpass, officials told NBC 7.
A San Diego Police officer fired shots at the vehicle. Others then went up to the driver's side of the patrol car, fired a beanbag round and pulled the still-handcuffed woman out of the vehicle.
Somehow, Lane was able to slip the handcuffs from behind her back and drive the patrol SUV while handcuffed, Guaderrama said.
She was uninjured and taken into custody, he said. Lane was booked in the women's jail in Santee and faces multiple charges, police said.
Michelle Martin was in Mission Bay when the pursuit began.
Martin described the suspect as a pretty, red-headed woman who was sitting in the back of the CHP patrol car as the officer searched the car she was driving in connection with a hit-and-run. The registered owner of the vehicle told NBC 7 his car had been stolen.
While in the patrol car, Lane jumped over the seat and drove away, Martin said.
The CHP officer fired five times at the back of the patrol car, Martin said.
As the cruiser was exiting the parking lot, a red Mustang convertible was entering the area and was almost struck according to Martin.
[G]CHP Patrol Car Stolen After Shots Fired
The intersection where the pursuit ended is in the heart of the valley with Riverwalk Apartments and several stores nearby.
The response by law enforcement officers was massive with one NBC 7 user, Finn Blake, reporting as many as 11 CHP patrol cars driving at high speeds with lights and sirens along southbound Interstate 15 from Rancho Penasquitos to Mission Valley.
Dozens of uniformed officers from San Diego Police and the California Highway Patrol were on scene.
Along Friars Road, Lane struck three vehicles, driven by innocent passersby, police say. No word on injuries.
One of the people whose car was hit was 11-year-old Valina Lams. She said the patrol cruiser rammed her mom's car from behind. They escaped unhurt, but she said her mom's car was totaled.
"It was really scary for me. I'm only 11. I don't know what to do," Valina said.
No law enforcement officers were injured at either scene.
The SWAT team was initially requested, but was canceled after the suspect was taken into custody.
At 6 p.m., Qualcomm Way at River Run Drive was closed as police processed the crime scene. On and offramps to Friars Road also were temporarily closed.