Police surrounded a high-rise apartment building in downtown San Diego early Monday after residents reported hearing gunfire following a fight in one of the units.
A neighbor told NBC 7 she heard at least five gunshots at around 5 a.m. at the Pinnacle at the Park apartments at 424 15th Street, near J Streets. The high-rise is located just a few blocks east of the San Diego Central Library and less than a half-mile from Petco Park.
San Diego Police Department Lt. Shawn Takeuchi said that when officers arrived, they saw at least 20 people running away from the apartment complex. Police locked down the building, as a precaution, while they interviewed residents and sorted out details.
Takeuchi said 10 people were detained for questioning and the group told police there had been a party at a unit on the 42nd floor, and there had been a fight at that party.
SDPD was not able to confirm if gunshots were, in fact, fired. Investigators did not find any victims suffering from gunshot wounds and Takeuchi said there was no evidence of gunfire in the building.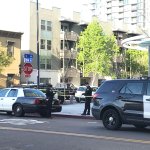 Police said one man suffered a cut to his head; he was taken to a local hospital. In all, three people suffered "blunt force trauma" during the incident, but police did not elaborate on the injuries.
Police officers roped off the building and hours later, masked officers would still be seen investigating. Some residents stood on their balconies watching as the investigation continued.
Takeuchi told NBC 7 police are trying to determine who hosted the party and why it was happening. The county remains under a public health order that prohibits social gatherings in ongoing efforts to curb the spread of the coronavirus.
Witnesses said the party took place inside an Airbnb unit.
NBC 7 reached out to the front desk at Pinnacle at the Park and an employee said managers were not available for a statement.
Watch NBC 7 News at Midday for the latest updates on this story.