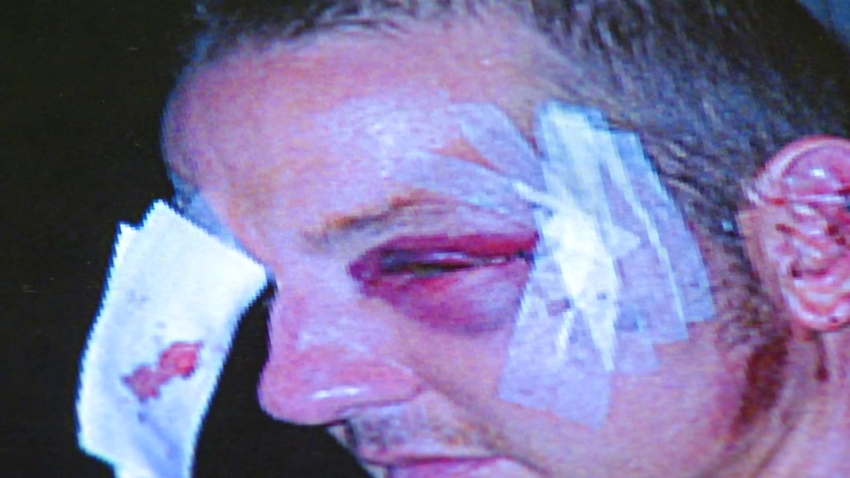 A San Diego man is paying a huge price for shoplifting. He claims he was caught and allegedly physically beaten by a store security guard.
Now, that shoplifter – local resident Kevin Hoopfer – could get millions of dollars from a jury.
Hoopfer admits he stole a laser pointer in September 2010 from the Fry's Electronics in Murphy Canyon.
But his lawyer alleges a security guard went wild when he caught Hoopfer with that stolen merchandise.
"He walked outside, the security guard rushed up behind him, grabbed him, pressed his arms to his side, spun him around, turned him around and piled-drived him head-first into the concrete," Hoopfer's attorney Julie Parker told NBC 7 in an exclusive interview.
Parker says security guard Eric Ayala continued to physically abuse her client, in a Fry's interview room, after that beating.
She told the jury in the civil case now underway at San Diego's downtown Hall of Justice that Hoopfer had worked as an IT and computer repair specialist prior to the beating.
"Very smart, very capable, and now he looks at a computer and doesn't know where to start," the attorney said.
Today, jurors heard testimony from a neurologist, who said that beating left Hoopfer with a traumatic brain injury.
Hoopfer's symptoms include headaches and depression.
His lawyer says Hoopfer now lives in a care-home, and has difficulties setting goals, planning and solving problems.
"So he is really unable to function as a human being," Parker told NBC 7.
She says life-time care from that violent incident will cost more than $5 million.
Defense attorneys declined NBC 7's request for an interview.
But Fry's Electronics issued a statement, telling NBC 7:
"Fry's strongly disputes plaintiff's allegations in this action, and is presenting its case to a jury and the court. The plaintiff was convicted of shoplifting in connection with this very incident, and his alleged injuries arose while he was fleeing the scene of the crime. Fry's respects the judicial process and will defer any further comment until after the verdict. We trust the jury will return a just verdict, one which will not reward theft by a convicted shoplifter against a family-owned business and law-abiding shoppers."
Parker told the jury her client admitted stealing that $35 item, and accepted the consequences by pleading guilty at a criminal hearing.
"But a loss prevention guy is not allowed to be judge, jury and executioner for petty theft," she argues.
The trial has two parts.
Parker says the jury has already agreed the security guard was negligent and committed assault and battery on Hoopfer. Based on that conviction, the defense wants has offered to pay a maximum $100,000 settlement.
Jurors heard closing arguments on March 1. The defense argued that Hoopfer resisted efforts to surrender the item and cited expert testimony claiming that he is not actually brain damaged.
Hoopfer's lawyers said that he will need $5 million from Fry's for medical expenses, plus an additional $20-25 million for emotional damage in addition to pain and suffering. They also allege that Fry's destroyed the security tapes, saying the company has a history of attacking shoplifters.
The jury will soon decide how much, if anything, Hoopfer should get for his injuries.