Authorities say they have arrested a second suspect in the case of a missing 22-year-old Fallbrook woman.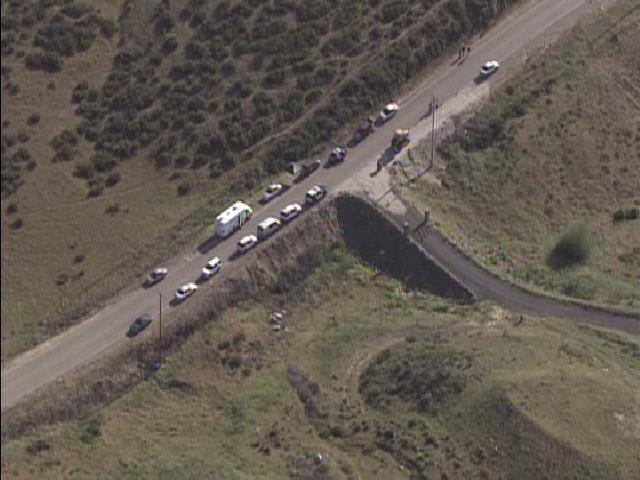 Brittany Killgore was last seen in San Diego on Friday. Investigators said they believe there is a strong likelihood she is the victim of foul play.
On Tuesday afternoon, a female body was found by a road worker cutting the grass near Lake Skinner in Riverside County , the San Diego Sheriff's Department announced.
However, they could not say whether the body was Killgore's. Investigators are still processing the scene, which is about a mile north of Warren Rd. The San Diego Medical Examiners Office will release the identity of the body when it is known.
Two suspects have been arrested in connection to the case. Jessica Lynn Lopez, 27, was arrested at the Ramada Inn in the 1400 block of Rosecrans St. on Tuesday. She was found with self-inflicted wounds, according to Lt. Larry Nesbit.
She is currently in the UCSD Medical Center for "medical necessity," and now faces murder charges, said Sheriff's Capt. Duncan Fraser with the Homicide Division.
Louis Perez, 45, was also arrested on unrelated charges.
Killgore's father is in San Diego and has been told the latest information about the case, according to officials. Cory, Killgore's husband, is also expected to arrive in San Diego tonight.
NCIS and Camp Pendleton, where Perez was stationed, are now involved in the case. Nesbit said he expects another person to be charged.
Click here for a timeline of events in the disappearance of Brittany Killgore.
Killgore was last seen by a friend in Fallbrook at 5 p.m. on Friday, April 13. She may have traveled to the Gaslamp area that day as her cell phone was found there, according to sheriffs deputies.
Perez is believed to be one of the last people seen with her and has been arrested on unrelated charges, according to officials. He has been questioned regarding Killgore's disappearance, but detectives said he was uncooperative.
Perez is an active duty Marine based at Camp Pendleton and is currently in San Diego Central Jail for allegedly stealing an AR-15 assault rifle. Investigators are now classifying Perez as a "person of interest."
"[He is] uncooperative and not completely forthcoming about his knowledge we believe," said Nesbit.

Neighbors said Killgore's husband, Cory, was on deployment during the incident. He posted on his Facebook page asking for prayers for his family.
"Thank you everyone for the prayers and concern," Cory said on Tuesday. "I request you pray for her more then you do for me. I have family and friends for support. She is alone where ever she is."
The couple filed for divorce on April 10, according to court documents.

Sheriffs said the Red Cross is now helping to fly Cory home from Afghanistan and said her family from out of state is en route to Fallbrook as well.
A car parked at her residence had explicit language scribbled in the dust of the car windows. Investigators said the comments were not there yesterday.
Killgore's neighbor, Patricia Pagdilao, said Killgore is often out late at night but that she's always with friends.

"Usually I see her you know every night coming through here when she invites a couple of friends over but the last time I saw her was last week," Pagdilao said.
Investigators searched in De Luz Canyon near Fallbrook on Monday based on information they received.
Killgore is described as 5-foot-8 with brown hair, brown eyes and weighs 130 pounds. Killgore was last seen wearing a dark purple evening gown with purple floral glitter patterns.

Anyone with information about Killgore can contact Detective Brian Patterson at 858-974-2321 or Crime Stoppers at 888-580-8477.

Keep up to date on breaking news: Download our improved iPhone app, follow us on Twitter @nbcsandiego, fan us on Facebook, sign up for our breaking news e-mail alerts or text SDBREAKING to 622339 to receive text messages for local breaking news. (For more info, text HELP. To end, text STOP. Message and data rates may apply.)