"I wouldn't be surprised if there were still people in the FBI and around the country working the investigation of the 9/11 attacks," San Diego County Sheriff Bill Gore told NBC 7 Investigates.
When asked to elaborate, he said, he believes there are still questions to answer. "Knowing how the FBI works and how investigations continue on until you have left no stone unturned."
Gore was the head of the San Diego division of the FBI at the time of the terrorists attacks in 2001.
One element of the investigation that has gained attention recently is a classified 28-page section of the joint inquiry report issued in December 2002 by the House and Senate intelligence committees.
Gore said he hasn't read the classified pages but has firsthand knowledge of many of the details surrounding the events of that day.
"I don't think there is any mystery to the fact that a lot of funding came from very wealthy Saudi's," Gore said. "But, to say that 9/11 was directed by the Saudi Government, I think it's kind of stretch."
Gore ran the FBI office in San Diego for six years.
"We were never told by FBI headquarters, the White House, the State Department or the CIA to stop investigating something or that we were getting too close to a particular target," Gore said.
Even, when it came to the Saudi government.
"I was never directed to do anything different," Gore said. "To pull back on any leads; stop any investigations that pertained to Saudi Arabia."
He said the local office did a professional and thorough job, chasing 8,000 leads in the three months after the 9/11 attacks. Still, he said, there are some unanswered questions.
Gore said he believes there are Saudi elements with San Diego connections that remain unclear. Including, who in San Diego helped two of the hijackers Nawar al-Hazmi and Khalid al-Midhar.
Both men were from Saudi Arabia and were responsible for flying one of the passenger airplanes into the Pentagon on 9/11.
"There was a lot of people locally who befriended them," Gore said. "They came here (San Diego) as college students. They didn't speak English. They wanted to take flight lessons as we all know, so, there was a lot of people who took them in as foreigners, as part of the Saudi community (in San Diego.)"
One of those people is Omar al Bayoumi, a mid-level employee of a Saudi airline.
Gore said al-Bayoumi helped the hijackers settle in San Diego in January 2000. He said there was speculation about whether al-Bayoumi worked for the Saudi government.
According to Gore, al-Bayoumi helped hijackers al-Hazmi and al-Midhar by facilitating the deposit on their San Diego apartment but did not pay their rent.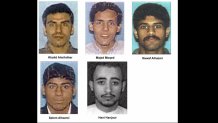 He had a very high profile in the community, frequently throwing parties, Gore said, "almost like a social chairman. A very suspicious character, suspicious to a lot of people."
Gore said the San Diego FBI office flew agents to London after al-Bayoumi was found there. He was interviewed by the agents and New Scotland Yard investigators but they couldn't find anything to charge him with.
According to several published reports, he is now living somewhere in Saudi Arabia.
While talking to NBC 7 Investigates the sheriff made it very clear: the entire Saudi community in San Diego was not to blame.
"I don't want to paint a broad brush of the Saudi community in San Diego," he said.
Gore said he believes there still remains work to be done, continuing the job the local FBI office began 15 years ago this coming September.
There still may be those "we need to arrest, charge and bring to justice," he said.