The Santa Barbara Sheriff's Department said the shark that bit and killed a surfer off California's central coast probably was a great white between 15 and 16 feet.

Francisco Javier Solorio Jr., 39, of Orcutt was bitten in the upper torso in the waters off Surf Beach in Santa Barbara County on Tuesday. He died at the scene.
After examining the victim's body, Ralph Collier from the Shark Research Committee made the determination of the injuries on Wednesday.

A friend was surfing with Francisco Solorio Jr. when he witnessed the shark attack, said the Santa Barbara Sheriff's Department.

Deputies said the friend started first aid procedures after the attack while another surfer called 911. Vandenberg Air Force Base Fire Department responded to the scene and Solorio was pronounced dead at the beach by paramedics.
The Orcutt, Calif. native was surfing near the Vandenberg Air Force Base but was not affiliated with the base, said officials. Three other men were also at the beach during the time of the incident.
The injury appeared to be a shark bite in the upper torso and the surfboard had visible teethmarks, said Lt. Erik Raney with the sheriff's department.
Solorio was not affiliated with the military base, according to a press release from Vandenberg, which initially said the victim was 38 years old.
Surf Beach access is closed until further notice and the public is asked to avoid the area for safety reasons.
Raney said there has been an uptick in shark sightings lately.
"I think it's pretty well known locally...that there are sharks and we've had shark sightings up and down the Santa Barbara coastline pretty frequently recently," he told NBC 7 San Diego.
Experts at the Birch Aquarium in San Diego said migration patterns may be to blame.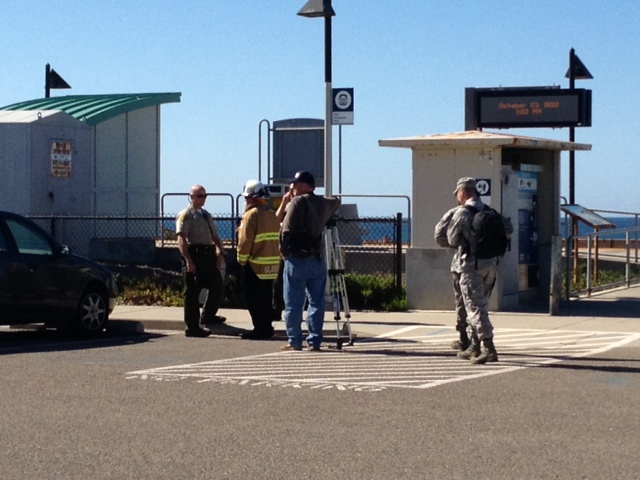 "In the fall, there are more juvenile great white [sharks] migrating up from Baja, going up north," said Nigella Hillgarth, Executive Director at the Birch Aquarium.

In October 2010, a 19-year-old college student was killed in a shark attack off Surf Beach. Lucas Ransom was bodyboarding when he disappeared under the water about 100 yards off shore.

Dave Martin, 66, of Solana Beach was killed in April 2008 while swimming along the coast near his home. Martin was a member of the Triathlon Club of San Diego and swam with club members every week. There have been no known fatal shark attacks in San Diego since then.
A survey of shark attacks released in 2011 shows surfers were attacked in slightly more than half of the cases globally. Swimmers and waders were the second-largest affected group, making up 38 percent.