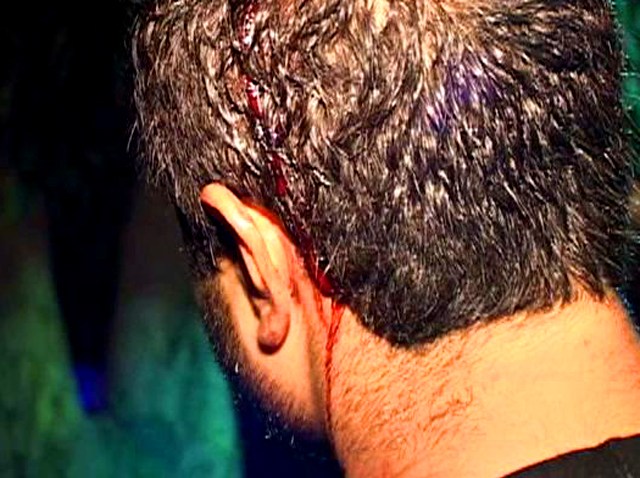 A witness describes an alleged assault involving a Chargers star at a PB bar.

San Diego police are investigating a claim that Chargers defensive back Antonio Cromartie hit someone in the head with a champagne bottle at a bar. Detective Gary Hassen said officers answered a report of a fight at Bar West in Pacific Beach shortly before 1:30 a.m. Monday. The incident occurred hours after the Chargers beat the Denver Broncos 32-3.

After the attack, witness Gary Ratavossi, who was at Bar West for the first time, had some words for the Chargers.

"Shame on them -- seriously, it was very immature, and they should know better," Ratavossi said. "I think pro athletes should hold their selves to a higher standard, especially because, you know, altercations like this not only tarnish their image but the team's image, and that's just unacceptable."

Earlier, Ratavossi described what happened inside the club.

"The night started off great.... We had a table, some of the San Diego Chargers were here -- I guess they were celebrating their victory today over the Denver Broncos. Somehow, we started off ordering some alcohol, some bottles," Ratavossi said. "Everytime, I guess, you purchase a bottle, they do a little fireworks show, bring some sparklers out. And somehow it turned into a like a, you know, who's got the deeper pockets? and who can make more fireworks go off in the club? So it started off with two, and then they got two more, and then we got two more, and it ended up being 10, 15 bottles later. And it ended up into, like, OK, let's see who can make the most fireworks."

Things soon took an ominous turn, though.

"After that, at some point, some champagne was sprayed into the crowd, which was ... everybody was, you know, fine with it, having a great time," Ratavossi said. "Then, I guess four of the San Diego Charger players ... they grabbed their bottles, literally lined up in a row, kind of like a gunfire position, and just took aim at that side of the table, and just started shaking the bottles and spraying them, which is all fine, you know, it's part of the game. We're spraying back and forth. So it's cool. I'm soaking wet. Everybody else got soaking wet."

Thing quickly turned from bad to worse, however.

"And then what really just kind of took it over the edge is, I guess one of the Chargers literally held the bottle in his hand, stepped up to one of the members in our group and struck him in the head with a champagne bottle," Ratavossi said. "The bottle then cracked, and there was glass everywhere, pandemonium, people were like, 'Oh, my God!' And his head was bleeding profusely. There was just blood everywhere: his shirt, the floor."

Ratavossi didn't know the attacker's name but said he told police what he knew.

"Honestly, I didn't recognize him, but I described him, what he was wearing to the police," Ratavossi said. "They said they had surveillance cameras and tape. Apparently they got exactly what they wanted on him. The cops brought him out, questioned him. They held him for a little bit, I guess got his information down."

Cromartie is under investigation for assault with a deadly weapon, the SDPD detective said.

On Monday morning, Cromartie posted a message on Twitter.

"I want to apologize to charger nation and my fans," wrote Cromartie, whose Twitter user name is crimetime31. "There's sum stuff out abt me that's not true. It will come out. God Bless."

A Chargers spokesman said the team had no comment yet but that the team is aware of the story and is looking into it.