Several streets in Logan Heights are shut down as San Diego police continue their investigation into a standoff that led to the arrest of two men who had outstanding felony warrants.
The San Diego Police Department said the standoff began sometime around 9 a.m. at the 2100 block of Ocean View Boulevard because they believed a suspect was holed up in a home.
SDPD said an ongoing investigation connected to two pursuits on Wednesday, one on Interstate 805 and a second on Interstate 5, led them to the home.
Police said they believed the suspect, identified as Jonathan Gutierrez, was armed, so "out of an abundance of caution, we called a SWAT team to respond and take the person into custody safely," SDPD Lt. Arturo Swadener said.
SWAT team cleared the house and two women came out, followed by Gutierrez, who surrendered peacefully. Swadener said they located a second man, identified as Johnny Mena, in a car near the house, also with an outstanding warrant. He, too, was arrested.
Police said the two warrants for Gutierrez and Mena are unrelated to one another but did not further specify details.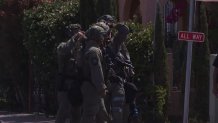 In preliminary reports, the SDPD told NBC 7 the wanted man shot someone, but later said it was not connected to a shooting that occurred on Ocean View on Wednesday.
As a result of the standoff, the following intersections have been shut down until further notice:
28th Street and Ocean View Boulevard;
Harrison and Franklin Avenues;
Franklin Avenue and Evans Street;
Ocean View Boulevard and Evans Street.