What to Know
San Diego resident Craig Voss, 71, is suspected of driving his Volvo while impaired; officials said he hit nine people in a tunnel in downtown San Diego just after 9 a.m. on March 15.
Three people died in the crash and five were hospitalized; two of the victims who were hospitalized are in critical condition.
Witnesses said the driver plowed into a row of tents along the sidewalk; the area is known as a place where homeless San Diegans seek shelter -- especially on rainy days like Monday.
Three people were killed Monday morning when a driver plowed into nine people in a tunnel near San Diego City College in downtown San Diego.
The San Diego Fire-Rescue Department said first-responders were called to the 1400 block of B Street at 9:05 a.m. and arrived at the scene within minutes. The location is a tunnel leading to the college, east of Park Boulevard and west of Interstate 5. The tunnel is beneath a bridge, also near the campus' Curran Plaza.
More than 60 first-responders were initially assigned to the mass-casualty incident, including first-responders aboard five SDFD engines and a helicopter. SDPD officers and patrol cars could be seen lining B Street, both inside the tunnel and at the entrance and exit.
"Our crews found, obviously, a tragic incident under the bridge," SDFD Chief Colin Stowell said at a news briefing Monday morning.
Stowell confirmed three people had died at the scene.
He said there were nine total patients; five were taken to local hospitals following the crash: two to UC San Diego Medical Center, two to Sharp Memorial Hospital, and one to Scripps Mercy Hospital.
The two patients taken to UC San Diego Medical Center were in critical condition, San Diego Police Department Chief David Nisleit added.
Stowell described the scene of the deadly crash as "a very tragic emergency and incident that impacts all of us."
He said the call took an emotional toll on first-responders. It was a "chaotic" scene, Stowell said.
"We train for this but there's just no way to prepare for something that's this devastating," the SDFD chief added. "This was a very tragic, tragic accident that will make an impact on a lot of lives."
Nisleit said police received multiple 911 calls about the crash just after 9 a.m. When officers arrived, they saw "multiple people down" in the tunnel.
Nisleit said the driver – who had been in a Volvo station wagon – identified himself to police officers.
At a news briefing Monday afternoon, Nisleit confirmed the suspect is San Diego resident Craig Voss, 71.
Nisleit said Voss was booked into jail on three counts of vehicular manslaughter, plus five counts of causing great bodily injury while committing a felony. He also faces one count of felony DUI.
The police chief could not confirm what type of substance Voss was allegedly under; he said those details are still under investigation.
Nisleit said Voss was detained at the scene.
Nisleit said police had received a radio call minutes before the deadly crash reporting a vehicle matching the description of the Volvo that hit the pedestrians.
Nisleit said that call is part of the ongoing investigation and could not give specifics yet about what was reported in that call regarding the Volvo.
"It appears to be the same car," he explained.
The SDPD is looking for any video surveillance that may have captured the Volvo in the moments leading up to the crash along B Street, Nisleit said.
The chief said Voss was traveling westbound on B Street near 15th Street when he lost control and began veering to the right.
"It went completely up onto the sidewalk, struck the multiple pedestrians there, then came back onto the roadway and came back to stop in the very No. 1 lane, just before you exit the tunnel," he explained.
Nisleit said Voss got out of his car and walked over to the victims. Officers later heard from witnesses that the driver tried to help some of those who were hurt. When Voss saw police officers arrive at the scene, he identified himself as the driver of the Volvo.
The victims who were hit by the car were on the north sidewalk. The chief said some were in or near tents and belongings. Homeless San Diegans are known to use the tunnel as shelter -- especially on a cold, rainy winter day like Monday.
"To those families [of those who] have passed, my deepest condolences," Nisleit said.
Nisleit said there is no information yet on the names or ages of the victims.
As of 2:30 p.m. Monday, Nisleit said the two victims who were taken to UC San Diego Medical Center in critical condition were awake, alert and answering questions.
"[It's] a great sign. They definitely had some significant injuries – bodily trauma," Nisleit said.
Nisleit said Monday morning that the roadways near the accident site would be closed for the rest of the day as detectives continued their investigation. By 2:30 p.m., officials were starting to clear the area.
'Like Something You See in a Movie Scene': Witnesses Describe Deadly Crash
Witness Ronnie Williams was walking in the area near the crash scene when, suddenly, he heard what he described as a "loud bang or, like a boom."
"That's when it happened really fast," Williams told NBC 7. "I turned around and I saw yellow headlights and next thing you know, I was almost getting sucked under the car. And then I managed to pull my leg out from under the car right here."
"You could see everything popping up, going in the air, dragging, it was, it was very loud. It was like something you see in a movie scene," he added.
He said the driver pulled over to the right and stopped the car.
Williams suffered some scratches to his legs but did not need to be hospitalized.
He was grateful he wasn't hurt worse.
Williams said he thinks the crash happened in about 10 seconds. He said the driver took out three tents lined along the sidewalk at first, then a few more.
"It was a slow 10 seconds," he said. "It was quick, but it was slow. I could see everything; I could hear everything; I could feel everything. I could hear myself thinking to myself like, 'Do you want to die or not?'"
He got himself out of harm's way quickly and walked to the other side of tunnel. He knows he got lucky.
"It was kind of like a nightmare a little bit, you know. Obviously, I made it through, but some people didn't," said Williams, adding that he knew some of the victims.
Williams said after the crash, everything got very, very loud.
"Everybody screaming in pain and in agony," he said. "You could tell they were hurt, like for real, for real."
Witness Michael Luke is homeless and told NBC 7 a lot of people use the tunnel for shelter – especially on cold, rainy days like Monday. Luke said people often sleep under there in tents.
Luke said he saw the driver right after the crash looking very distraught. He said the driver walked away from the car and waited for police to arrive before being taken away in handcuffs.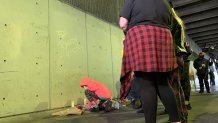 'A Street is Not a Home': San Diego Mayor Todd Gloria Talks About Homeless Victims of Deadly Crash
San Diego Mayor Todd Gloria offered his deepest sympathies to the victims of the deadly San Diego crash at a news briefing Monday afternoon.
The mayor also addressed homelessness.
"We know that most if not all those who were sheltering under that bridge this morning were homeless and they were there because they felt as though they had nowhere that they could go," Gloria said. "This crash this morning did not have to be so devastating. Let me state it very clearly: a street is not a home."
"It's not humane or safe to keep allowing our unsheltered neighbors to keep sleeping under bridges, in alleys or in canyons," Gloria continued. "And we must take decisive action to provide more compassionate solutions for people experiencing homelessness."
Hanan Scrapper, regional director of PATH – or People Assisting The Homeless – an organization that works to end homelessness in California, said the deadly crash is a tragedy that "further highlights the dangers of living on the streets."
"The street is not a home," a statement released by Scrapper to the media read. "This location has long been known as a gathering place for the unsheltered population and PATH will assist those displaced by today's crash get access to shelter and services. In the long-term, PATH will continue to work to ensure more people have the safety that a home provides."
Gloria said the city of San Diego would not turn a blind eye to homelessness and, instead, would "deal with it head-on."
He said anyone experiencing homelessness in San Diego can call 211 for help.
"We can and we will provide shelter to those who need it," he said. "I want to speak to those without homes in our city – accept the help we are offering. We have beds, we have services, we can connect you with family – and offer you a safe place to stay."
Gloria said the city was committed to treating the homeless victims of this crash with dignity and respect.
Michael McConnel, an outspoken supporter of improved services for the homeless said Monday's tragedy sheds a brighter light on the issue.
"They are out here for reasons – they couldn't afford the rent, loss of job, medical issues, a whole variety of issues. We should care because they're people," McConnel said.
The mayor said the city had deployed mental health clinicians to help anyone who was impacted by the crash and offered shelter to those who were impacted.
Outreach groups were also working to save any of the victims' belongings that were left behind in the tunnel, Gloria said, and the city would make every effort to reunite the victims with their possessions.
Signs posted in and around the tunnel said the city was storing personal property picked up from the scene of the crash. Anyone who left belongings behind in the tunnel and wants to retrieve them can call the Environmental Services Department at (858) 694-7000. Property can be picked up or delivered by city staff.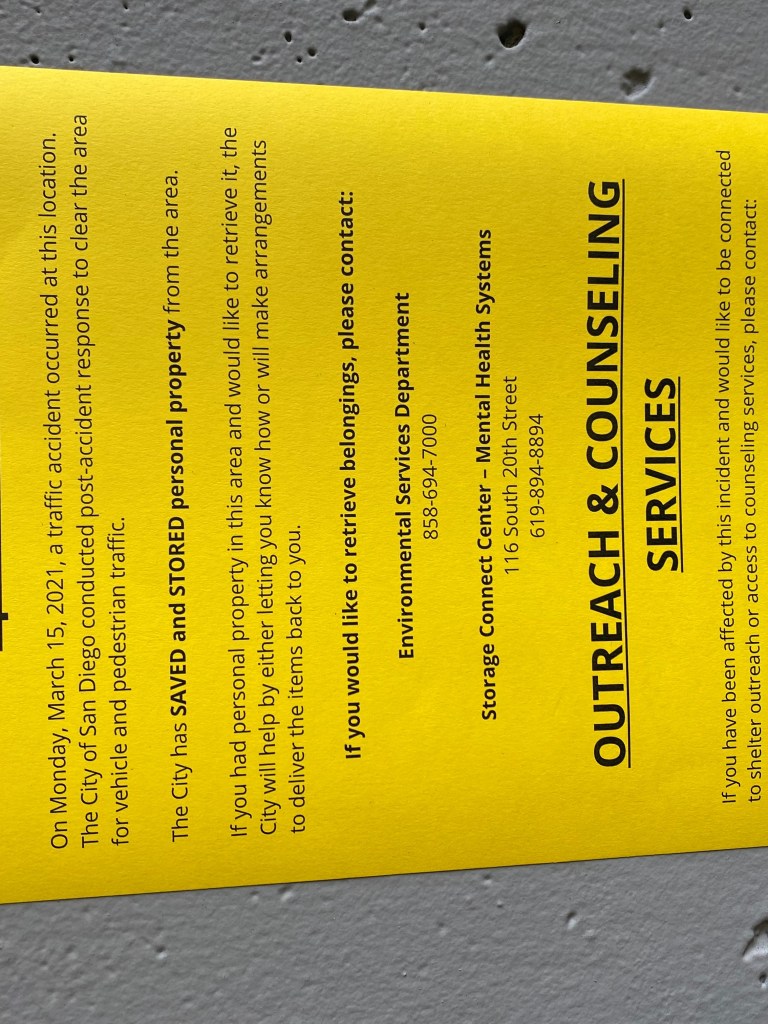 The mayor said the deaths in this crash would not be in vain.
According to Gloria, the 14, 15 and 1600 blocks of B Street are one of the areas in downtown San Diego known for homeless encampments, in part, because the bridge covers a long stretch of B Street.
He said that because of the rain, there may have been even more homeless people in the tunnel than normal.
"As a consequence, [this] possibly made this even more of a significant tragedy," Gloria said. "As I said before, this is not acceptable."
Gloria also called on those in the homeless community to accept help and make use of the services that are currently available. He stressed the need to provide more beds, but McConnell said shelters and beds aren't the answers.
"We need housing solutions with services that folks need," McConnel said. "That's what solves homelessness."
The city of San Diego is offering outreach and counseling services. Anyone interested can call (619) 578-7793.
A small vigil formed at the site of the crash Monday night. Candles and flowers lined the sidewalks and some wrote messages of condolence on the walls.