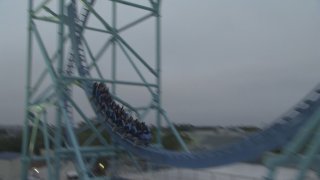 San Diegans have mixed views about SeaWorld San Diego's plans to build its tallest roller coaster ever with a 150-foot-high ascent followed by an inverted roll.
The California Coastal Commission granted permission to SeaWorld Wednesday to build the roller coaster. It will feature loops, twists and an upside-down view of Mission Bay. SeaWorld officials said they also received unanimous support from the San Diego City Council in June.
"We remain committed to long-term investment in the park and will continue to strive to provide new reasons to visit SeaWorld by giving our guests experiences that matter," said SeaWorld San Diego's Park President Marilyn Hannes.

According to SeaWorld, the adrenaline-filled ride will propel riders forward and backward, accelerating more than 60 mph in seconds.
Some residents in San Diego are looking forward to the new ride. Scott Sterns, a resident in Santee, said he supports the park and its roll in the local economy.
"I think they've been getting beat up quite a bit over the whole Shamu situation, and they're just trying to be successful as a company and come up with new ways to attract people to come visit SeaWorld," said Sterns. "And so they can continue as a company and move forward. I don't have an issue with it."
Others are less than thrilled with the park, suggesting that SeaWorld still has work to do on its overall reputation before focusing on thrill rides.
"If they're building a roller coaster, I feel like that's just going to draw in more people to promote SeaWorld and kind of make it look like a good happy place," said Erics Beaulieu, a resident who lives close to the park. "But I think that it's kind of all bad. So I don't know. I don't think I support it."
Beaulieu said she doesn't like the way the park treats sea life and does not support a new roller coaster.
"Even if they don't think it would block the view or make it even look that big, I think it's still pretty large and obstructive," she added.
Another resident of West Point Loma, Steve Soldi, was concerned about how the new ride could affect traffic and his view.
"Seaworld's gotten pretty expansive already, and the traffic would be my main concern. The traffic is terrible," said Soldi. "I can see the SeaWorld tower from my house all the time. And as far as I'm concerned, that's big enough."
The ride is currently set to open in summer 2018. SeaWorld officials said construction will begin immediately.
This will be the third coaster at the park, joining Manta and Journey to Atlantis.
"I do hope it helps them. They employ a lot of local folks here in San Diego, and I think they've been good for our city over the years and they do a lot of great things with rescuing animals," added Sterns.