The San Diego Unified School District (SDUSD) has put on hold a change in how long emails should be kept for the public record.
NBC 7 Investigates first reported the change last week.
The school district notified employees they would no longer keep emails older than six months. The emails would be permanently deleted unless employees decided to archive them.
The policy was supposed to go into effect July 1.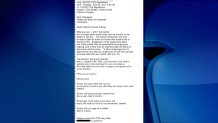 SDUSD Board President Richard Barrera said the board will ask for a review of the change at its meeting next Tuesday night. He said the change of heart came after pushback from the public, San Diegans for Open Government and the media, including the Society of Professional Journalists (SPJ).
UPDATE: On June 27, the school board directed the Superintendent and district staff to create a report reviewing district document retention procedures (including emails) and how the district processes public records requests. After receiving the report, the board plans on approving changes for 2017-18 school year.
The statement from SPJ reads, in part:
"San Diego SPJ has researched email retention policies in other large California school districts and learned that the policy San Diego Unified is proposing is outside the norm. The Los Angeles, Long Beach, Fresno and Elk Grove Unified school districts all retain emails for at least two years, per their policies."

You can read the full statement here.
"When we heard about these changes and understood public advocates for open government and folks in the media were saying, 'Hey, wait a second this could impact our ability to get information.' We said, 'Wait, we have to slow down.'" Barrera said.
Attorney Cory Briggs wrote a letter to Superintendent Cindy Marten on behalf of San Diegans for Open Government.
Briggs said under regulations issued by the Department of Education, the earliest school districts can get rid of any records is three years after the annual county audit is done.
He said different agencies have different rules, but added, "there is no rule that allows you to get rid of it under six months."
Barrera said the board and superintendent had no discussion of the change prior to it being announced to staff. He believes some staff members thought the change was a procedural issue, not a policy that needs to be adopted by the board.
"It's an important enough issue where we said we've got to discuss this in open session," he said. "I think what's likely, we're to ask for a full review and look at what other public agencies do and have a full understanding of what the law requires."
Barrera said it is not likely any action will take place Tuesday night until there is a full discussion with input from the public.
"It's a conversation that has to be made in public. It's a conversation that needs to be informed by technical people, by open government people, by concerned members of the public who interact with the school and school officials," Briggs said. "It cannot be hatched behind closed doors."
NBC 7 Investigates checked with other school districts about their email retention policies.
Poway Unified told us it retains emails for one year while the Oceanside School District said it does not currently have a specific retention policy regarding district email or correspondence. But officials said the district is working on a board policy now and hopes to have one in place in the next school year.
Sweetwater Union High School District has not yet responded.