Police are looking for the man who reportedly wrestled a San Diego State University student to the ground and tried choking her just feet from her doorstep. The battery report was taken by police last Sunday.
The woman, who did not want to be identified, lives several blocks away from campus on Campanile Drive.
The 20-year-old woman told NBC 7 last Sunday night, just after 10 p.m. a man was lingering on her block while she walked home from the campus library.
"I had shown my flashlight on him and we made eye contact," she explained to NBC 7.
She stressed that she was alert and conscious the moments leading up to the attack.
"He was casually walking...kind of looked at me and tried to make it seem like he was going about his own business," she said.
But the student said everything changed in a matter of seconds.
"He got right next to me, he sprayed his water bottle in my face and he came up behind me and put me in a chokehold," she said.
The student said her attacker then shoved her to the ground, hidden beneath a bush on her lawn. She was just feet away from her doorstep.
"I need people to hear me," she said. "My roommates are… this is my house. My roommates are right here, like Jesus, I hope they hear me."
The victim described that about a little less than a minute after being strangled, she was able to get out of the man's chokehold and gouge him in the eyes. She then screamed. Something alarmed her assailant and he left running.
By telling NBC 7 her story, the victim hopes to spread the word to make sure her attacker will be held responsible for his actions. The victim wants students in the area to be alert and avoid walking home.
"My entire purpose for telling all of this is to inflict fear into girls around campus," she said. "It's scary and people need to be scared by it so they decide not to walk home at night."
A San Diego State Community Safety Notification was sent out to students that gave a detailed description of the attacker. The man is around 6 feet tall, weighing about 180 pounds, with black hair and brown eyes.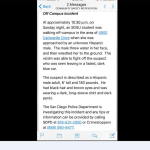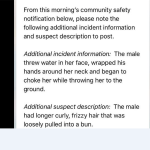 He was wearing a long black sleeve shirt and dark pants. The alert said he has longer curly frizzy hair, that was loosely pulled in a bun.
No arrests have been made.