San Diego Police will ticket cars parked along 5th Avenue in the Gaslamp Quarter during certain weekend hours beginning Friday.
For the past several weeks violators got just a warning, but starting September 30, citations will be issued.
Street parking on Fifth Avenue – from Broadway to Harbor Drive – is now a 3-minute "Passenger Loading Zone" area every Friday and Saturday, from 8 p.m. to 3 a.m., similar to the loading zones currently in place at the San Diego International Airport.
Before this change, there was metered parking in the area from 10 a.m. to 8 p.m. and free, open parking every night from 8 p.m. to 10 a.m.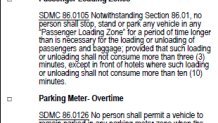 The changes are aimed at improving traffic flow, easing congestion and improving pedestrian safety and accessibility in the bustling downtown area.
"It's too brand new to see if it is having a big effect," said Traffic Enforcement Officer Rober Ewing. "I'm seeing a few more vacancies than I would normally see at this time. We'll know as we get more into it.
The Gaslamp Quarter Association also said the change will promote alternate modes of transportation into downtown, including public transit, rideshare services, taxis and the new Free Ride Everywhere Downtown Shuttle, also known as FRED.
But NBC 7 spoke with some people who worked in the Gaslamp Quarter--they say the enforcement is frustrating.
"For five minutes? Of course I am frustrated," said Collin McCann, who got a parking ticket after he missed the 8 p.m. deadline to move his car on Friday. "It's ridiculous. They're nasty around here. Them parking meters got no souls, they got no souls."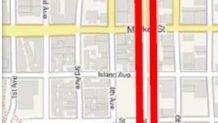 The Gaslamp Quarter Association said existing valet stands and taxis along Fifth Avenue will not be affected by the change.
For more info about parking in downtown San Diego's Gaslamp Quarter, click here.
Free or Cheap Things to Do in San Diego