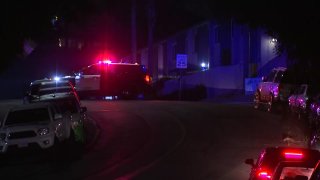 A driver who was shot and killed in a robbery attempt in Point Loma before crashing into a building has been identified.
San Diego Police identified the driver as 18-year-old Eduardo Salguero. On Wednesday, he hit a building near Kemper Street and Kenyon Street just after 6:15 p.m. after an armed robbery took place in his car.
After an SDPD Homicide Unit investigation, it was learned that the Salguero arranged to purchase an item through Snapchat. When he arrived to meet the sellers, two men entered his vehicle. During the transaction, one of the suspects produced a firearm and multiple gunshots were fired inside the vehicle. The suspects fled the scene on foot after the crash.
Salguero was found with at least one gunshot wound and he later died at a local hospital, according to SDPD.
The suspects are described as men between 20 to 30 years old who wore dark clothing. SDPD believes the men sustained significant head, leg, and arm injuries during the collision.
Anyone with information regarding this incident is asked to call the Homicide Unit at (619) 531-2293 or Crime Stoppers at (888) 580-8477.