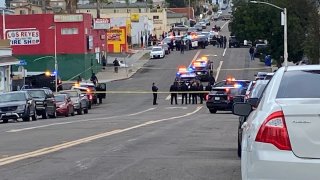 A man was shot and killed Tuesday along Ocean View Boulevard in Mountain View, according to police.
San Diego Police Department officers responded to reports of shots fired outside Mike's Market on Ocean View near 36th Street at around 2:40 p.m., according to Lt. Andra Brown.
Southeastern Division officers got to the scene and found a man on the ground with at least one gunshot wound to his upper body, Brown said. Officers were unable to keep him alive. He was identified only as a 27-year-old man.
Investigators believe the victim was standing with another man in front of the market when three armed men wearing dark clothing walked up and opened fire on them, Brown said. The second victim, identified only as a 54-year-old man, ran from the shooting but showed up later at an area hospital with non-life-threatening injuries, according to Brown.
Anyone with information is asked to call the SDPD Homicide Unit at (619) 531-2293 or Crime Stoppers at (888) 580-8477.