A new attack reported in downtown San Diego is connected to a series of homeless killings, San Diego Police homicide investigators said Friday.
Just after 4:30 a.m. two Harbor Police were driving up the 1800 block on C Street when they heard a male screaming, according to homicide Capt. David Nisleit.
As the officers checked the area not far from the San Diego Police Headquarters, they found a 55-year-old man with significant trauma to his upper torso.
"He was asleep and he was awakened by being attacked," Nisleit said.
That got extra officers into the area, Nisleit said, and they detained one person found on Laurel Street a couple of blocks east of Interstate 5.
Police detained the suspect for a short time this morning, but they have not yet announced an arrest. The current suspect is different from the previous suspect arrested late last week, that police released on Monday.
Nisleit would not release information about the weapon used in the attack. Investigators say that it appears to be in line with similar methods used in the previous attacks.
"There's no doubt in my mind this is part of our series," Nisleit said, referring to the series of attacks involving homeless men who were burned and killed that's has startled San Diego since it began July 3.
"We're at the very preliminary stages," Nisleit said. "We just have a person detained."
On Thursday, homicide investigators released a new composite sketch in the series of homeless killings. Four men were attacked between July 3 and July 6. Three of the men died from their injuries. A fourth is in critical condition and unable to identify his attacker, police said.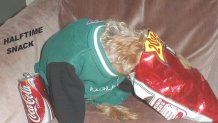 One person is believed to be responsible for the attacks. Homicide investigators want to question a man spotted on store surveillance video near the scene of the first attack along Morena Boulevard in the Bay Park area.
The man purchased a gas can, a gallon of gasoline and a lighter about 15 minutes before the first victim's body was discovered.
Another attack, reported at 4:06 a.m., occurred near 1300 1st Avenue. In this incident, a man was struck in the head with an unknown object, police said. The assailant was last seen leaving the area on a bicycle heading north on 2nd Avenue.
Police say this attack appears to be unrelated to the subsequent attack on the 1800 block of C Street. At this point, they say it is an entirely different case.
No other information was immediately available.
At this time we don't know if this attack was related to a similar attack that occurred Wednesday in the East Village where another homeless man was hit in the head. The suspect in that incident was seen riding away on a blue mountain bike, police said.
Check back for updates on this breaking news story.