As Mother Nature drenched San Diego County with rain and snow over the holiday week, law enforcement warned travelers of flooded and blocked roadways.
Flooding blocked a stretch of Alvarado Road east of 70th Street and caused major damage at the nearby San Diego RV Resort.
The Heartland Fire Department said thigh-high waters picked up at least four cars and moved them some 500 feet across the property. The current also picked up an RV, and it and the group of cars came to rest in a pile in the corner of the property.
"We were not home when it happened, but we got an email and came back and saw our car all smashed with the other cars against an RV," resident Kianna Hanes said. "I have been crying and upset about it, but I am grateful no one was hurt."
The floodwaters also lifted a trolley car at the nearby 70th Street station off the tracks at around 11:45 a.m.
#Nightnews Two lanes of the westbound 94 are closed near the 805 junction while road crews work in waste deep water to clear the drain #NBC7 at 11 We're live. pic.twitter.com/6udW8kMjLv

— Dave Summers (@DaveSummersNBC7) November 29, 2019
At around 8:30 p.m. Thursday, westbound State Route 94 near 47th Street and the Interstate 805 interchange was reduced to just two lanes due to pooling water along the shoulder. Crews at the scene said water pooled to about waist high because a drain was blocked.
Apparent erosion occurred near the train tracks along the Del Mar Bluffs during the stormy weather.
The land gave way a few feet away from the tracks, but North County Transit District told NBC 7 all trains are safe to move through the area with erosion.
And here's the photo courtesy of @SDLifeguards Lt. Romero. SDFD firefighters and swift water rescue lifeguard teams are busy! #turnarounddontdrown #cawx pic.twitter.com/Onw6dzlfwK

— SDFD (@SDFD) November 28, 2019
The district also said trains will run on restricted speed limits for added safety as engineers monitor the situation.
A school yard and park parking lot in Nestor were flooded, as were the yards of several homes.
A small tree was split in two in a Chula Vista parking lot on Thursday. It appeared to be the only damaged tree in the Terra Nova Plaza parking lot on East H Street at the time.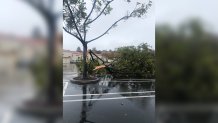 Just south of the border in Tijuana, nearly 20 people including children had to be rescued from a flooded neighborhood. More information can be found here.
In a series of tweets, the San Diego Police Department told natives and visiting family alike to avoid the following roadways:
Northern Areas:
Nobel Drive over I-5
Balboa Avenue (4200 block)
Carmel Mountain Road (3300 block)
Carroll Road (6000 block)
The city of San Marcos said Bent Avenue and Via Vera Cruz were closed, and Craven Road was closed at Foxhall Drive.
Sunrise Highway between State Route 79 and Mile Post 27 was closed due to snow.
Central Areas:
Florida Street and Pershing Avenue (North Park)
26th Street (1500 block)
28th Street/National Avenue (Logan Heights)
South 33rd Street (400 block)
Voltaire Street (5100 Block)
San Diego Mission Road (10800 block)
Bonnie View Drive/Murray Park Drive
At around 1:15 p.m. Thursday SDFD closed Avenida Del Rio between Friars Road and Riverwalk Drive due to high standing water.
The County Department of Public Works said Country Club Road in La Mesa was closed at Harmony Grove Road due to flooding.
Southern Areas:
Hollister Street (2500 to 2700 blocks)
Monument Road (2100 block)
Airway Road (8300 block)
Beyer Boulevard (3600 to 4000 block)
E Street/Bonita Road at I-805
Third Avenue between Quintard and Palomar
Second lane at Main Street from Melrose to Hilltop
The San Diego Fire-Rescue Department said the area of Palm Avenue and Picador Boulevard should be avoided because of flooding. Several cars became stuck in high waters and swift water rescue teams had to assist stranded drivers.
During the storm's three-day stint over the Southern California region, San Diego could see more than three inches of rain and up to six inches of snow, NBC 7 Meteorologist Sheena Parveen said.
The impact could be dangerous for drivers on what AAA predicts will be the busiest travel holiday in 14 years.
To see how much rain and snow has reached San Diego County, as well as ongoing watches, warnings, and advisories in the region, click here.