San Diego Fire-Rescue saved a cat that had been stuck in a tree for three days Saturday.
Fire officials said they sometimes provide special services like this.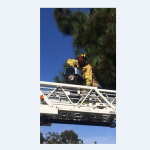 The County of San Diego Animal Services called the fire department because their ladder wasn't tall enough.
The rescue happened in the 5300 block of Monroe Avenue.
"Cat successfully rescued!" the fire department said.