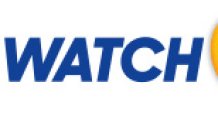 It's here.
The 2016 Summer Olympics kick off Friday, Aug. 5 at 8 p.m. on NBC. But before the swimming, gymnastics, basketball and track and field, the Opening Ceremony sets the stage for the drama to come. TODAY's Matt Lauer, Meredith Vieira and Hoda Kotb will host the NBC broadcast of the Opening Ceremony.
Once the games are underway, Bob Costas will host primetime for an 11th time. Al Michaels will host daytime on NBC, Ryan Seacrest will host late night, while Dan Patrick, Rebecca Lowe, Carolyn Manno and Liam McHugh will also serve as hosts.
Here are seven key things to watch as during the opening night spectacle.
TO WATCH: Tune in to NBC7 beginning at 7:30 p.m. PT. Or return here to watch on your phone, tablet or computer.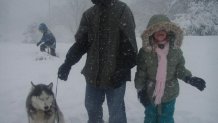 The U.S. Flag-Bearer: Michael Phelps
With 18 gold medals, swimmer Michael Phelps is the most decorated Olympian of all time — and he had one more honor bestowed upon him this week when it was announced he would be Team USA's flag bearer during the Opening Ceremony.
Phelps, the first American male swimmer to qualify for a fifth Olympic Games, was chosen by a vote of his fellow Team USA members.
"I'm honored to be chosen, proud to represent the U.S., and humbled by the significance of carrying the flag and all it stands for," Phelps told the USOC. "For Sydney, I just wanted to make the team. For Athens, I wanted to win gold for my country. For Beijing, I wanted to do something nobody else had done. In London, I wanted to make history. And now, I want to walk in the Opening Ceremony, take it all in, represent America in the best possible way and make my family proud. This time around, it's about so much more than medals."
Phelps is only the second swimmer to lead the U.S. delegation into the Opening Ceremony and the fifth swimmer to serve as flag bearer for Team USA. Four-time Olympic medalist Gary Hall carried the flag into the Opening Ceremony of the 1976 Olympic Games in Montreal.
Other recognizable flag bearers representing their respective countries include Andy Murray for Great Britian, Caroline Wozniacki for Denmark and Rafael Nadal for Spain.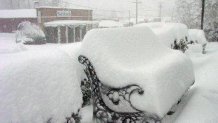 The Performances
Brazilian superstars Anitta, Caetano Veloso and Gilberto Gil are headlining the showcase.
At just 23, Anitta told Billboard magazine the opportunity to perform in front of a worldwide audience was incredible.
"I couldn't believe it when I found out I was invited. The whole world will be watching, and that's very important for me," Anitta said. "I come from the ghetto in Brazil where we don't have a lot of career opportunities, so I'm sure my family and people who live there never imagined that one day I'd become a singer and be able to perform at an event like the Olympics."
Also taking center stage will be veteran musicians Caetano Veloso and Gilberto Gil.
The pair rose to prominence in the 1960s and 1970s as part of Rio's influential tropicália movement. They're expected to perform music that not only played a role in shaping that sound but that in 1968 also scored a revolutionary moment in Brazil's history. Considered outlaws in their day because of their beliefs, the pair was exiled to London for three years.
"The military wanted us to leave the country," Veloso told The Guardian in 2010. "They let us play a concert to raise money for a plane ticket."
On Friday they perform on the grandest stage Rio has to offer.
Team USA Uniforms
Check out those Team USA opening threads. The USA contingent will be dressed from head to toe in Ralph Lauren sportswear. The ensemble will include white denim jeans tapered at the ankles, patriotic tees, navy blazers bearing the signature Polo pony logo and with red-white-and-blue striped boat shoes.
David Lauren, executive vice president of Ralph Lauren's global advertising, marketing and corporate communications, told USA Today the fashion company was going for a very specific Brazilian feel for the games.
"Something that's relaxed and easy but also celebrates American colors, celebrates patriotism, but something that doesn't feel too warm for athletes," he explained.
As flag bearer, Phelps will be particulalry hard to miss as he'll be donning a jacket with electroluminescent panels and a battery pack that will light up the Olympic patch on the front and the letters across the back, according to The Los Angeles Times.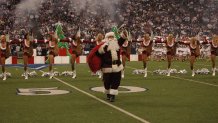 Judi Dench
The Rio 2016 Olympic Games won't have Queen Elizabeth parachuting from an airplane with Daniel Craig, but it may well have the next best thing. Craig's James Bond co-star Dame Judi Dench is set to play a prominent role in the Opening Ceremony and will be one of the very few non-Brazilian performers taking part.
Dench, 81, scheduled to read a poem by Brazilian poet Carlos Drummond de Andrade during a section dedicated to the country's natural environment. "A Flor e a Nausea" (Flower and Nausea) is about a flower growing in the cracked asphalt of a road in a heavily polluted city.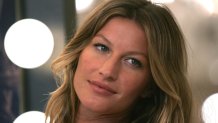 Gisele Bundchen & Lea T
One of the first transgender models in the fashion industry, Lea T will break ground once again in Rio. She's being billed as one of the first transgender individuals to have a major, still undisclosed, role in an Olympic opening ceremony.
"Brazil is vast and all this diversity, in one way or another, needs to be represented in an event like this," Lea T said in an interview with the BBC.
International supermodel Gisele Bundchen will strut out to the Brazilian hot "Girl from Ipanema" during the four-hour event. But not everyone is thrilled with appearance of Mrs. Tom Brady. According to various social media accounts, Bundchen's controversial appearance will highlight the country's high crime rate and poverty of Rio as she will play the role of someone who is mugged.
Brazilian newspaper O Dia and Folha Daily spoke to witnesses of the dress rehearsal. According to O Dia, cast members set to perform in the Opening Ceremony have complained about the scene and hope it will be removed, Yahoo Sports reported.
Big Names You Won't See
President Obama and VP Joe Biden will be skipping the festivities this year. In their stead Secretary of State John Kerry will lead the U.S. delegation to the games.
More controversially, Brazil's elected president Dilma Rousseff is currently suspended and likely to be ejected from office. The embattled politician is refusing to attend the ceremony. Her former vice president and current acting president, Michel Temer, will preside.
"What you cannot do is sell your soul," Rousseff recently said in an interview with Time. "I tried to make compromises and concessions with those who had a vision of a better Brazil. ... It's a razor's edge you walk."
San Diego's Carli Lloyd
Two Olympic athletes who share a name will make history in Rio as they become the seventh set of U.S. Olympians with the same name to compete at a single Games, NBC Sports reported, citing Olympic historian Bill Mallon.
Carli Anne Lloyd, 34, is known by soccer fans around the world as a member of the United States Women's National Team.
Carli Ellen Lloyd, 26, of Fallbrook, California will be making her Olympic debut Saturday with the U.S. women's volleyball team.
By Mallon's count, the last time two Olympians shared a name was in London 2012, when two Ryan Baileys competed, one in track and field, the other in water polo, according to NBC Sports.