California resident Penelope "Penny" Gallegos is full of life. But, eight years ago, she was barely hanging on after being stabbed and hospitalized with wounds that many thought were not survivable.
"I flat-lined, they revived me," Gallegos said, referring to her trauma doctors at Scripps Memorial Hospital La Jolla. "I was in a coma for two months. Many times, they came out and said I wouldn't make it. The stress on my family was horrible."
Gallegos, who once lived in Oceanside but now lives with her daughter in Glendale, California, was airlifted to Scripps Memorial on May 10, 2008, after being badly beaten and stabbed.
That day marked the beginning of a seven-month stay at the hospital – a time of constant struggle, medical setbacks and, eventually, recovery.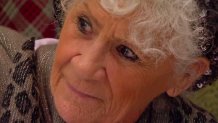 Gallegos said she had five heart attacks during her hospitalization. She remembers being hooked up to endless tubes that made her look "like a spider."
Her recovery was painful, to say the least. She had to learn to walk again. She had to regain muscle.
And, in the process of rebuilding herself, Gallegos also built lasting relationships with the doctors, nurses and therapists who cared for her daily.
"The fantastic people I had around me were absolutely the best ever in the world," Gallegos told NBC 7.
She said her physical therapist would pick her up out of her hospital bed every day for her exercises. Gallegos would often resist, crying and screaming because getting up hurt so badly.
But, little by little, with the support of her therapist and doctors, she began moving.
"That was the first step to me getting up – and staying up," she recalled. "They saved my life. I was gone."
Gallegos' doctors dubbed her "The Miracle Lady."
Today – with the spunk and determination of a fighter – The Miracle Lady makes her way back to the hospital year after year to thank the people who gave her a second chance at life.
On Wednesday night, she did just that.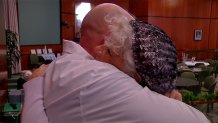 Gallegos was one of many former trauma patients who attended a 32nd annual holiday event at Scripps Memorial Hospital La Jolla where former patients get to reunite with their trauma doctors and nurses and celebrate life.
Gallegos gave long, warm hugs to those who had cared for her and said they're always in her thoughts. In addition to attending this event every year, Gallegos said she also sometimes drops by the hospital just to say hello to her heroes.
"I think of these people every day of my life. You can't thank them enough," she explained. "My doctors are my life. They gave me life. It's like being reborn. A higher spirit up there gave the doctors [the ability to give me] what they gave me."
Scripps Nurse Practitioner Peter Schultz was happy to see Gallegos, as well as some of his other former trauma patients. He said the feeling of seeing patients up and running again is unlike anything else.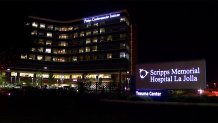 "You work so long and so hard taking care of them through the hospital and when they leave, they're gone. You have almost no concept of how well they're doing out in the community," said Schultz. "And to get them to come back gives you this comfort that they've gone out and become citizens again, gone back into society, and that all the work, all the effort you put into [their recovery] was worth it."
Schultz said that while many patients consider their doctors and nurses a blessing, he sees it the other way.
"We are given the gift of the ability to take care of people. It's an honor for us to be included in their lives," he added.
Schultz said that in Gallegos' case, she was "literally dying" in the hospital. He and the ICU team worked together to bring her back to life. He said she did all of the hard work – and his team was there to hold her up.
Scripps Memorial Trauma Medical Director Imad S. Dandan, MD, also helped care for Gallegos. He said he remembers her feisty personality and her fight.
For Dandan, reuniting with Gallegos and other former patients at the hospital's annual holiday event is the best gift.
"This is one of my most favorite days of the year," said Dandan. "You get to see people who were flat on their back – now most of them are unrecognizable. Sometimes they have to reintroduce themselves to me just for me to recognize them."
Wednesday night's reunion was an emotional one for Ruben Banuelos Jr., 32.
On May 29, 2016, Banuelos was hit by a DUI suspect on State Route 76 near a Home Depot in Oceanside. He suffered a head injury and severe internal injuries. Firefighters had to use the Jaws of Life to pull him out of his mangled car.
"I was gone," he said. "I don't even remember the day she hit me."
Banuelos spent seven hours undergoing emergency surgery in Scripps Memorial's operating room. He slept for 12 straight days.
When he came to, he was in a hospital with tubes connected to his stomach. When his family told him what he had been through, he couldn't believe he was alive.
"God saved me. I was in life and death in that situation," he told NBC 7.
Scripps Memorial's holiday event was the first time Banuelos has been able to visit with the doctors who saved him. He choked back tears thanking them.
"Thank God that they saved me. I just appreciate all of their hard work," he said. "God touched every single one of them to fix me – to patch me back up."
Dandan said taking care of patients is the first part of the job of doctors and nurses. Watching patients make their recoveries is "the reward."
"It's an all-year-round gift; I'll take it any day," he added.