A 17-year-old student died and two others were injured in a collision in front of Santee's West Hills High School Thursday afternoon, officials confirmed.
At around 12:50 p.m., s a Taurus sedan tried to make a left-hand turn off of the campus onto westbound Mast Boulevard, a gold Ford Explorer traveling eastbound struck the sedan, said Santee Fire Department Battalion Chief Tim Stuber.
[G] Student Killed in Santee Crash
The cars collided with such force that the sedan backed into another truck waiting to make a turn onto campus. Brothers inside the sedan had to be cut from the vehicle by fire crews. That process took approximately 20 minutes, Stuber said.
One of the students, Ryan Willweber, was airlifted to the hospital, but he died there a short time later.
His brother Cory, another West Hills High student, was taken to Sharp Memorial Hospital for broken bones to his shoulder and face, according to the San Diego County Sheriff's Department.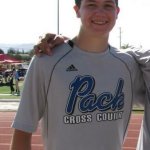 The Ford driver, who is a West Hills graduate, complained of arm pain and was taken to the hospital for observation. He returned to the scene of the fatal accident later that afternoon, obviously shaken.
The driver in the truck was not injured.
The cause of the collision is under investigation. Parts of Mast Boulevard remained closed hours due to the accident.
Later that night, students held a candlelight vigil around the school's flagpole in honor of Ryan Willweber, a track athlete at the school. Hundreds also took to social media to give voice to their grief.
Many at the school plan to wear blue Friday to remember Ryan.
The school district will also provide grief counseling and other support for West Hill High students.
A student from the high school, who was not involved in the crash, is a fire cadet and his father is a fire captain. That student told NBC 7 he heard the accident and ran to his car to get his first aid response bag. The student then ran to the scene and began performing the initial first-response on the victims alongside a school nurse until medics arrived.
West Hills High School sophomore Jonathan Hefty said he also witnessed the crash and ran over to help.
"[It sounded like] just the loudest brakes you've ever heard crash," he recalled. "I was one of the first to run up. Checking it out, we saw – it didn't look too good."