San Ysidro's DMV office opened for "REAL ID Saturday" for those applying exclusively for the REAL ID. A line was wrapped around the building as the DMV opened its doors.
The event was held from 8 a.m. to 5 p.m.
"When we first got here, the line was already around the building and we were thinking we're gonna be here all day," Dan Nordell a San Diego resident said.
No appointment was needed for the event, however, before their visit, customers were urged to complete and bring the required documents.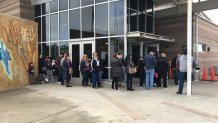 Six other California locations also opened for the event, including Chico, Davis, Laguna Hills, Reedley, Seaside, and Ukiah.
Starting on Oct. 1, residents will be required to show a valid passport, REAL ID driver's license or identification card to travel on flights within the U.S., and to access federal buildings and military bases.
For more information, click here.