The world's busiest land border crossing will close for nearly 60 hours this weekend as part of a multi-million dollar expansion project.
The San Ysidro Port of Entry will close from Saturday 3 a.m. until noon on Monday. Any cars heading from the United States will be rerouted east to the Otay Mesa Port of Entry.
All southbound lanes of Interstates 5 and 805 will be closed to traffic south of SR 905 as workers realign a portion of I-5 into the Mexico El Chapparal Port of Entry.
Tens of thousands of people will be affected by the closure which was announced in July. Planners say this is the final phase of the $741 million expansion of the San Ysidro Port of Entry.
"We're asking people to plan ahead and consider taking public transportation like the trolley system or buses," said Ramon Riesco, projects director of the Southern Border.
Northbound traffic will not be affected.
"After the major closure this weekend we will have three lanes open southbound," said Cory Binns of Caltrans. "So we do expect some delay during that period."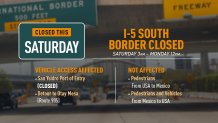 Binns added they are planning to have four lanes open before the busy holiday season. They added the gate usually has six lanes. They are hoping to open four lanes by November 12.
Friday, Laurie Bernam with Caltrans told NBC 7 that dozens of Caltrans crews will be directing drivers trying to get to Mexico onto eastbound State Route 905 into Otay Mesa.
All pedestrian crossings and facilities will remain open during construction.
Changes will include the renovation of the historic customs house, additional northbound lines, and a new pedestrian processing building on the east side of the junction.
Caltrans maintenance crews will also take advantage of the freeway closures to repair culverts, replace faded signs and remove weeds, Bernam said.

From Nov. 13 to May 2019, only four lanes will be open at the San Ysidro checkpoint.