The ex-CEO of a San Diego-based charity accused of embezzling donations meant for kids with cancer spent thousands on personal items including a vehicle from CarMax and a water bill, prosecutors allege.
Brianna King pleaded not guilty Thursday to one felony count of grand theft and one felony count of fraudulant appropriation.
King was the CEO and President of WishWarriors, a charity formed in April 2014 to help several Southern California families with sick children.
NBC 7 Investigates has been reporting on the allegations surrounding King since a local family first raised concerns.
Rodney and Susan Harvey of Rancho Penasquitos say they felt the nonprofit took advantage of their situation and used their daughter, Kasey, as a marketing tool.
NBC 7 Investigates soon uncovered King has a criminal record.
Then, in response to several of our reports, Angelica Simmons, a board member and the attorney for WishWarriors, sent an email saying, "At this time it appears most of the money raised by WishWarriors is gone -- used by Brianna for her own personal desires."
King was then arrested and charged with grand theft and fraud. During the investigation, prosecutors say there was some unusual activity found in the charity's bank account.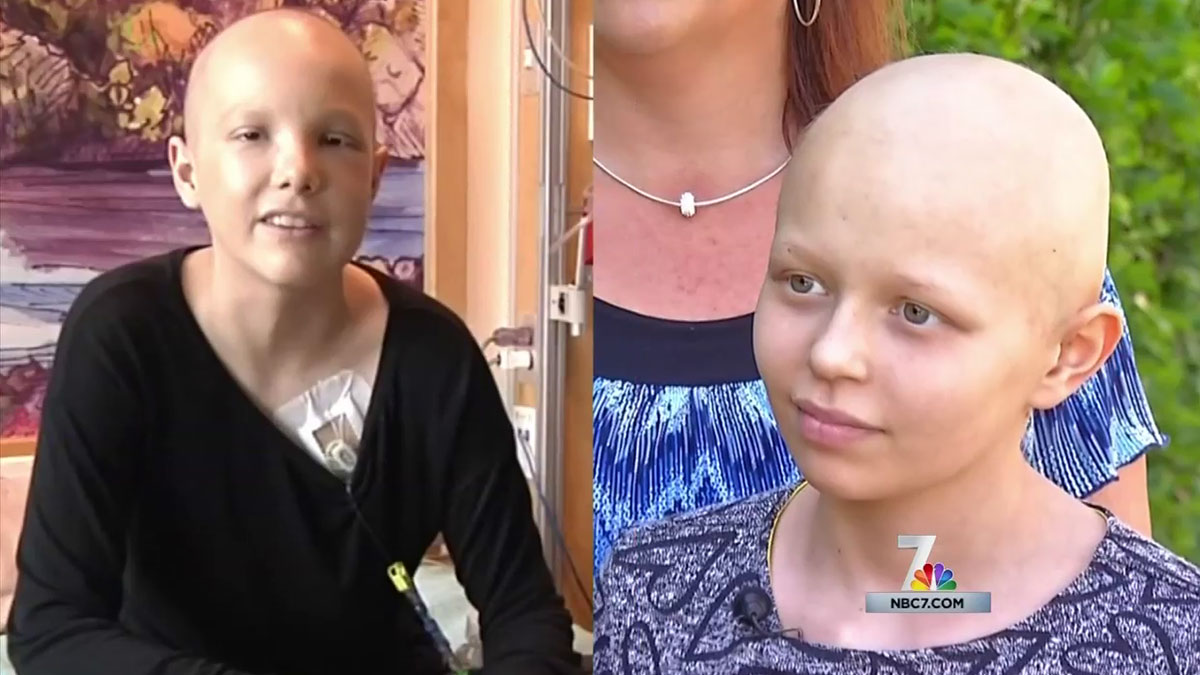 "We found expenditures that were questionable and personal in nature. Two particular expenditures were unmistakenly tied to Ms. King. The first being her personal city water bill and the second being her car payment to CarMax for her vehicle," said San Diego County Deputy District Attorney James Teh.
After weeks of requests for an interview, King continued to avoid questions regarding missing donation money.
NBC 7 Investigates caught up with King before her first court appearance Thursday. She did not respond to our team's questions and turned away from our camera. We also reached out to King's defense attorney, but did not receive a response.
One concern of the Harvey family was an April charity fundraiser involving their daughter, who is battling Rhabdomyosarcoma cancer. Maddie Taylor, 12, of Poway and her family were also invited to participate. Maddie is battling a form of bone cancer.
The Harvey and Taylor families lent their time, energy and image with the promise from WishWarriors that they'd receive a portion of the donated proceeds.
"To date, none of the cancer patients have received any money from this charity golf tournament," said Teh.
WishWarriors has cut all ties with King and has ceased fundraising efforts for the time being.
The charity's legal counsel and board member Angelica Simmons sent NBC 7 Investigates this statement in response to King's arraignment:
"We have learned that at this time it appears most of the money raised by WishWarriors is gone - used by Brianna for her own personal desires. We have reported this to the San Diego County Sheriff's Department and are fully cooperating with the authorities in their investigation of the matter. We hope that the investigation will allow us to recover the funds so that we can distribute them to the families as we, the remaining board members, had always intended. We are suspending all fundraising activities while this issue is ongoing."